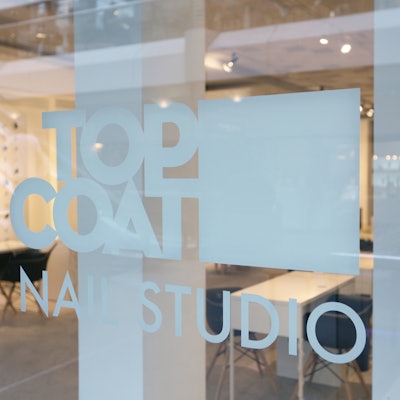 This month, we get a peek inside TopCoat Nail Studio – which started in 2013 as an app that matched clients with mobile techs. They were given the opportunity to open their own shop in San Francisco – and the result is an oasis that looks a lot like a modern art salon. Take a peek at its top qualities:
DISTINCTION
TopCoat started as an app that paired clients with mobile techs and soon after we were approached to do editorial and commercial work, including campaigns and events for SoulCycle, Gap and Sephora. Then, in late 2013, we were offered an amazing opportunity to open a pop-up [salon] for the holiday season. The location was perfect (downtown San Francisco, near the central shopping and salon districts) and the space was beautiful. When we opened, we saw a significant increase in interest from our clients and it quickly became clear that the combination of a salon plus the app was more attractive to our clientele, so we made the decision in the early part of 2014 to stay permanently.
From décor to our tech infrastructure, TopCoat Nail Studio is different from any other nail salon in San Francisco. But most importantly, it's our team that sets us apart the most. We are incredibly selective about the artists we bring into the Studio. They have to have impeccable technical skills, strong client relationships and an innovative artistic point of view. They also have to be team-oriented. Everyone in our Studio works together on editorial projects and events, and share clients when someone is not available.
Hard Gel Extensions and Nail Art by Sonia "G" Molina (@gsnailsncreations)
THE LOOK
We see our work as a blend between art and fashion, so we've made choices in our décor that reinforce that message. Our black and white floating mural wall has become an icon of our business and now a part of our brand. People stop to look at it while they walk by and it's become a popular background for visitors to take photos in front of (like a step-and-repeat). The nail artists and I built the mural wall together during our pop-up build out and most of the materials were sourced from our own personal collections. The collaborative spirit with which it was created, along with the exciting visual effect it creates for the space, sets the tone for the type of work we do.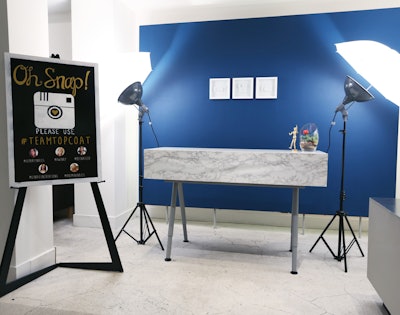 Most recently, we completed a renovation project to make the space feel more high-end. We added accent color walls in a rich, sapphire gem blue. We also added a ManiCam station with professional grade lighting to encourage our clients to share high quality photos of their work and empowering our artists to capture and document each set for their portfolios.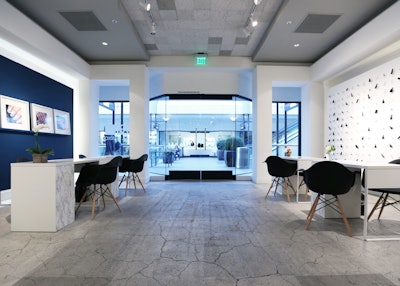 THE CLIENTELE
Our clientele is comprised of two types of women. We like to refer to them as Carlina and Pamela: Carlina is young, professional in her mid-twenties to low thirties. She either works in fashion or beauty or is the resident fashionista in her office. She is experimental with her fashion choices, likes to stand out from the crowd and has disposable income to spend on herself. Pamela is in her mid-thirties to low forties. She is young at heart, lives in the suburbs of San Francisco, but works in the city and relishes the chance to spend some time on herself before going home to her family. She is a powerhouse at work, but at home and with friends she fun loving, warm and adventurous.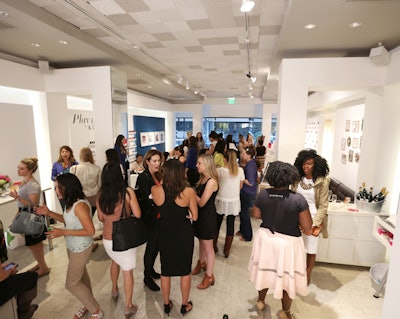 PopSugar Blogger Event at TopCoat Nail Studio (Sept 2014)
Additionally, events have become a significant portion of our business. Since we are located near San Francisco's Financial District, our events have primarily been private affairs hosted by national fashion/beauty brands in the area. For example, in September, we hosted a private event for PopSugar and their network of PopSugar Select Bloggers. PopSugar took over the salon, decorated and hired our team to offer complimentary mini-manis to the blogger attendees. We also brought in Piperlime to provide accessories for our ManiCam, which bloggers used to style their photos and post online.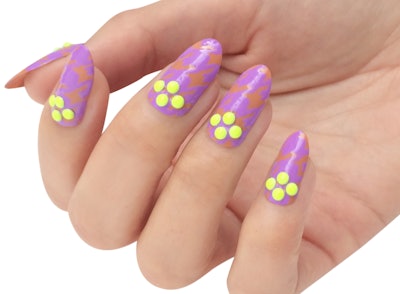 Nail Art by Lizz Hollingworth for TopCoat x Polyvore x Floss Gloss Collab (Summer 2014)
THE GOODS
The polish brands we offer are Formula X (which makes up the majority of our collection, since we are sponsored by Sephora), Floss Gloss, RGB, NCLA, Butter London, Illamasqua, Hail Nails, Marc Jacobs, Mischo, Habit and Deborah Lippmann. For gel, we offer Artistic Colour Gloss and several of the artists have their own collections that they bring as well.
Each of the brands and colors that we offer are curated by the team. Each season, we look at our collection and figure out colors we need and identify particular polishes we'd like to add to the collection. We've had several products donated by our partners, but the colors that we have on our polish wall are products that we have all personally tested.
Nail Art by Lizz Hollingworth for Formula X Fall 2014 Campaign
IN-DEMAND SERVICE
Our most popular service is a gel manicure with nail art. Prices vary based on how complex the nail art is and the final cost is determined by each artist for each service. However, the average price point is about $55. At TopCoat, the artists each have a slightly different technique, so each mani is unique. One commonality is that our artists do dry manicures and none of our artists clip cuticles unless there is a significant piece of dead skin that can easy be removed.  

SOCIAL MEDIA
TopCoat was founded because I noticed the nail art trend via social media in March 2012, over a year before we launched. So, it's been important to us to stay connected with the global social media community as we build our business.
My advice? Don't be afraid to experiment. We've been surprised many times at the photos that get the most engagement from our fans/followers, as well as those that don't. Secondly, it's hugely important to continue to engage and/or comment on other people's photos to continue to drive exposure for your brand.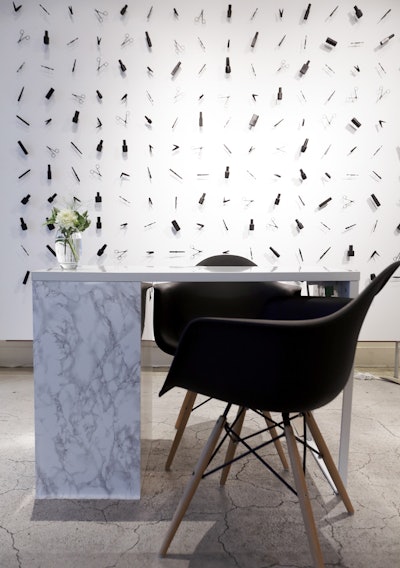 PRAISE
We frequently hear from our newer clients, "I've been waiting for a place like this!" There really just isn't anything like it. 
ADVICE
Invest in your team and stay true to your vision.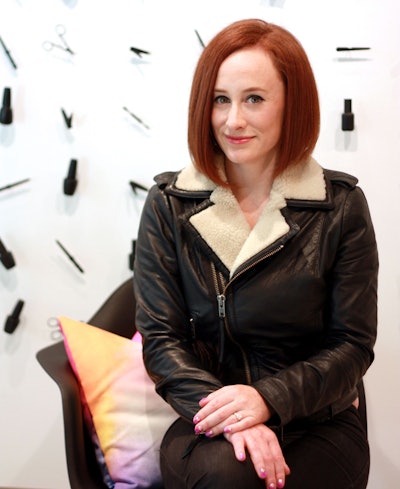 Ali Wiezbowski – TopCoat Founder and CEO
Owner: Ali Wiezbowski
Year Opened: 2014
Address: 50 Post Street, Crocker Galleria, 2nd Floor, San Francisco, CA, 94104
Phone Number: (415) 415-5860
Hours of Operation: Weds. – Fri., 11 a.m. – 7 p.m.
Website: topcoat.me
[Images: Gavin McIntyre, Formula X, Vy Nguyen, TopCoat]