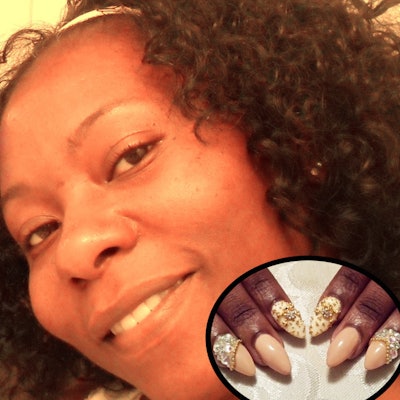 Welcome to NAILPRO's Nailed Down! where we "nail down" nail artists and technicians from our User Galleries and get to know them and their amazing work!
This week we visit Fayetteville, NC!
Meet Tamara McNeill:
Where do you work?
I am currently home-based, and I call my home "biz" Nails and Designs by Tee.
How would you describe yourself?
I am a very observant and down to earth person. I love working with my hands. I'm very family-oriented. I love every aspect of nail art and all that it entails. I'm a perfectionist and a creative thinker. I love meeting new people and hearing their thoughts. To sum it up…I'm a Gemini 🙂
How did you get started in the nail industry?
I have always been in love with nails. You would never catch me with my nails and toes not polished. I can remember being young and creating dotting tools with pencil erasers and pins so I could make different nail art. When college years came around I was attending a university and completely unsure of what my career was going to be. Despite others skepticism about its success, one day I realized I could turn my passion into my career and be happy to go to "work" everyday. That is exactly where I am now. I have also brought my love for nails into the beauty community online as well. I now get to share what I love with so many others on my blog and Youtube beauty channel!
What/Who inspires your work?
I gain inspiration from everything and everyone, mostly from designs I see on Instagram and Facebook. I'm pretty much self-taught and I'm still learning. To see other's designs, I gain inspiration and then I strive for better.
Are there any tools you can't live without?
My absolute must have is my dust collector. It's not the want I want (Valentino), but it is serving its purpose.
What is your favorite technique/style?
My favorite style is hand designs. I love the many possibilities and I encourage my desire to try it. I am, also, in love with Swarovski crystals and the finished touch they give.
What is your craziest/funniest nail story?
The craziest would be my lack of knowledge in the beginning. I didn't know how important primer was to nails and actually cried when the nails I did began to literally 'pop' off. After every set, they would come off within the week. LOL.
What tip can you offer other nail technicians?
NEVER give up. If this is something you are really, truly, and wholeheartedly wanting to do, know that anything worth having feels better with that sense of accomplishment. I spent so much time trying to get other techs to show me what I was doing wrong and getting upset when they didn't want to share their 'secrets' that eventually I learned that it was all about my own dedication to teaching myself how to apply my "own thing" to nails and NOT what they did to perfect theirs. A year from now you will see what I mean.
Anything else you'd like to add?
I wake up with a strong desire to be better at nails and designs. I'm not where I want to be, but I am better than yesterday. There are so many new things to learn and I'm enjoying my ride!!! Thank you for this opportunity to shine. It's is greatly appreciated and a huge accomplishment!
You can find Tamara McNeill on the web:
In the NAILPRO User Gallery: Nails and Designs by Tee
Facebook: https://facebook.com/NailsAndDesignByTee
Instagram: @datgurltee
Pinterest: pinterest.com/datgurltee
Click here for more Nailed Down! interviews »
Would you like to be featured in NAILED DOWN? Post images of your nail art to our User Gallery. We'll be highlighting outstanding artists based on those submissions! (minimum six pictures to qualify for consideration) NAILPRO reserves the right to edit submissions for length, grammar and clarity.