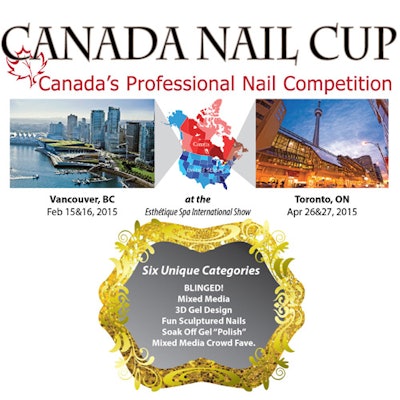 Now is your time to register for the Canada Nail Competitions! The Canada Nail Cup lets you participate at any level in any competition at just one flat rate. The Vancouver event will be February 15-16, 2015 and Toronto will be April 26-27, 2015, both at the Esthétique Spa International Show.
Here's what the show's competition schedule looks like:
Sunday
• Esthetique International Spa-Show Vancouver 2014 Opens
• Submission Deadline 12:00pm on site at the Spa-Show for Mixed Media categories.
• Submit mixed media entries to our information desk in the general registration area or
to competition room.
• 1pm Polls Open for Mixed Media Crowd Favourite Category.
Monday
8:30am: Setup / Arrival / Registration
8:45am – 9:45am: 1-hour 3-D Gel (One Hand)
9:45am – 10:15am: 30-min Break & Judging / Reset / Setup
10:20am – 10:40am: 20-min Gel Polish (One Hand)
10:45am – 11:45pm: 1-hour break & judging. Grab a snack. Product removal if re-using model.
11:50pm – 2:20: 2.5 Hour Fun Sculpture (two hands)
2:30pm – 3: 30-min break & judging
3pm – 3:45: BLINGED! (one hand, can re-use sculptured hand from previous category OR use your OWN hand!)
4pm: Trade-show floor closes. Quick, run downstairs and buy goodies, last chance!
3:45pm – 4:15: 30-min break & judging
4:15pm: Awards Ceremony
 
Even if you aren't competing, help us determine a winner by dropping by the Toronto Convention Center and place your vote for the "Crowd Favourite!"
Registration is just $40 to enter as many categories as you like in either Professional or Novice designations. You can register now here: canadanailcup.com.
Image: Pat Griffin