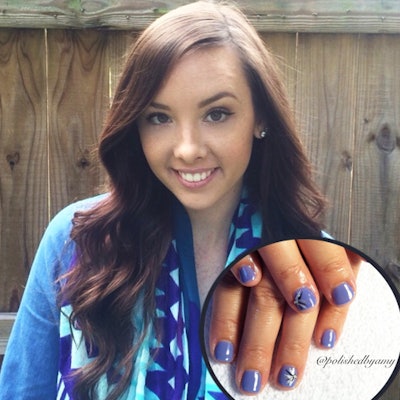 Welcome to NAILPRO's Nailed Down! where we "nail down" nail artists and technicians from our User Galleries and get to know them and their amazing work!
This week we visit Summerville, Georgia!
Meet Amy Rigsby:
Where do you work?
I am a nail technician at Blonde in Rome, GA. You can also find me and my work on my blog/website, Polished By Amy, as well as social media (see links below).
How would you describe yourself?
I would describe myself as passionate and caring. I believe you can bring anything you desire into reality. As long as you are passionate about a goal, believe it will happen, and work hard, anything can be accomplished! I am young and relatively new to this industry. I have already accomplished more than I imagined in this short amount of time. I have an extremely supportive family and boyfriend who have been there for me every step of the way.
How did you get started in the nail industry?
I have always been in love with nails. You would never catch me with my nails and toes not polished. I can remember being young and creating dotting tools with pencil erasers and pins so I could make different nail art. When college years came around I was attending a university and completely unsure of what my career was going to be. Despite others skepticism about its success, one day I realized I could turn my passion into my career and be happy to go to "work" everyday. That is exactly where I am now. I have also brought my love for nails into the beauty community online as well. I now get to share what I love with so many others on my blog and Youtube beauty channel!
What/Who inspires your work?
I take inspiration from many different things. My boyfriend is a very creative soul and has an artistic eye as well. He inspires me when it comes to art techniques and colors. I also take inspiration from nature. My nails typically correlate with the seasons and moods I have during different times of the year.
Are there any tools you can't live without?
I cannot live without my nail stripers and dotting tools! I create hand painted nail art almost everyday and these are my go-to tools of the trade. Another tool I always have is my cleanup brush! Having a small rounded brush for creating crisp smile lines and clean cuticles is a must!
What is your favorite technique/style?
I am a huge fan of working on natural nails. It's important to me to be able to enhance what you already have and make it even more beautiful! Almond shaped nails have been my current favorite canvas to work on as well!
What tip can you offer other nail technicians?
Ask, believe, and you shall receive. You can and will be successful if you believe and work hard towards your goals. Never give up your passion, no matter how many people may doubt your success.
You can find Ivonne Retz on the web:
In the NAILPRO User Gallery: Naturally Beautiful
Blog: Polished by Amy
Youtube: youtube.com/polishedbyamy
Facebook: facebook.com/polishedbyamyy
Instagram: @polishedbyamy
Click here for more Nailed Down! interviews »
Would you like to be featured in NAILED DOWN? Post images of your nail art to our User Gallery. We'll be highlighting outstanding artists based on those submissions! (minimum six pictures to qualify for consideration) NAILPRO reserves the right to edit submissions for length, grammar and clarity.