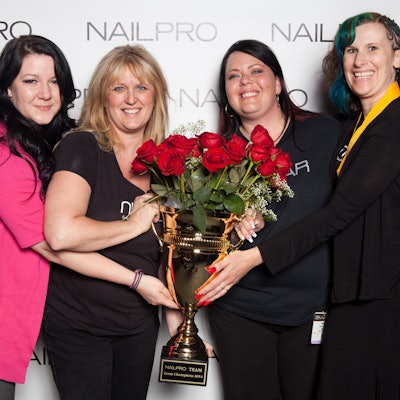 This year, Team Nubar took home the Nailpro Team Cup with only four members – a rarity in the competition circuit. Here, the four share the highs and lows of being a team player and their favorite moments from the season.
When did you start competing?

Alecia Mounixay: "I started two years ago, my first being a small one with Cruise With the Nail Stars. I placed second in salon success and 3-D."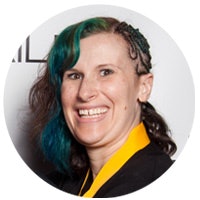 Guin Deadman-Littlefield: "I dabbled a little in competing online for several years but my first real competition was last year at Nailpro Pasadena; I entered the 3-D art category. My first hands-on competition was team relay in Las Vegas last year. After that, Shannon invited me to compete on team Nubar."

Amanda Lenher: "In 2011 with Team Nubar."

Shannon Nakamura: "I did my first competition in 2002, the last year the old 'Best in the West' system did competitions. They came to Hawaii and did a show. I was so pumped to win! That totally did not happen! But I do remember it was the first time I was around "Industry People" and that was a huge rush as well. Later that year, I was invited to educator training at the Long Beach show with Nubar; that's how far back we go! He let me compete there. Funny thing, I just found a photo album from that training."
What is the difference between competing as part of a team vs. individually?

"When you are past of the team, you have someone to help critique you and help you grow stronger. Also, when you don't place, [your teammates] help ease the sadness, so you don't give up. You also have wonderful sponsors, like Nubar, that help you with travel and set up your hotel rooms. They give you their awesome products to work with and help you win. When you are by yourself, you also feel proud because you did it on your own, [with] no help, so the rewards are even more [sweeter]."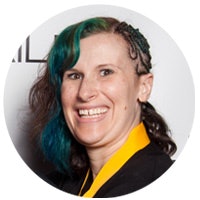 "Honestly I haven't competed as an individual other than for a few turn-ins, so I [am not as experienced in both settings]. I'd say the team is awesome though, because of the camaraderie and support."

"What is the difference between competing as part of a team vs. individually? It's like a family and a support system. I have never competed not being on a team. Nubar has put together an amazing team and without their constant support we wouldn't be here today."

"I guess you can say being part of a team is like a BONUS!! First you compete individually, and your personal score goes towards your "ranking." Then the personal scores of your team are calculated for "team points" The bonus comes into play in the fact that you are not alone. You can bounce ideas off your team mates, learn new techniques, and just have people to talk to who "get it." They get what you are doing and maybe most importantly why because they have the same drive."
What is the best part about being on a team? The worst?

"Feeling more confident in the competition arena. You have [your teammates] side by side and it gives you the peace you need to give it your best. You feel proud of your teammates and proud you are with them. [On a practical level], when you forget your forms or something small that slipped your mind, they are there to lend their stuff. The worst part is when some of [your teammates] snap at you when they are stressed. Sometimes you can get annoyed when you are stressed from back to back competitions and tend to take it out of your team members. Or when you fail, you feel like you let them all down. Especially when it's due to plane delays and such because we all know I have bad luck with flying."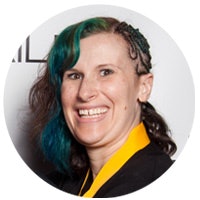 "You never need to worry if you've forgotten something because one of the other team members will have what you need. And the team cup of course! The worst part of the team is when you have four competitors in one hotel room finishing art entries the night before competition. The room tends to look like a nail bomb went off."

"I love the closeness and the support. On a team you have to learn each other's personalities and they might clash and disagree but at the end of the day we love each other like family."

"Best Part? Rooming together!!! Worst Part???? Rooming together!!!! [It's the] best because you are so excited to see one another! [It's the] worst because you stay up talking, no matter how hard you try to [go to] sleep at an early hour."
What was your most memorable moment from the competitions this year?

"There are two. One is obviously winning the Nailpro cup, but for me, winning first in Orlando in Fantasy was the best feeling EVER! My husband's best guy friend came and sucked it up to be my model for a caveman. My best friend drove all the way down from Charlotte, NC, by herself, to support me, and the competition was stiff! OH! And that trophy was just beautiful! It couldn't have been a more perfect time to have won my first, first place."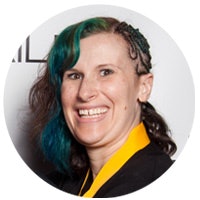 "Besides winning the cup? That was by far the highlight of the year. Winning first place in my first Salon Success competition and top three in all three of the It's All About the Bling competitions. Finishing the year in third for individual standings my first year as a competitor is at the top of my list as well."

"What was your most memorable moment from the competitions this year? Winning the team cup. We all worked so hard over the years to get here and it's an amazing honor for me, for the team, and for Nubar. Thank you!"

"Oh gosh so much, I love the girls on my team; I love Noubar [Nubar's CEO] and Aimee for their support and believing in us. And if I were being completely honest its kind of hard to surpass [that moment] standing on that stage with all of us holding that cup! There was also one quick and brief moment [before that, when] Jewell (dragging it out of course) announced our Team Nubar [had won!] I looked over and could see Noubar standing there with maybe the biggest smile I've ever seen (and I've known him 14 years) He was so proud of us; that was a pretty cool moment!"