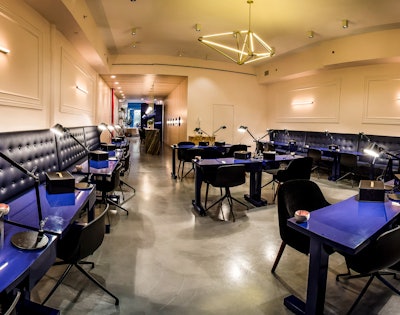 Welcome to Paintbox, a luxury salon in New York led by owner Eleanor Langston and creative director Julie Kandalec, which caters to young professional women. Take notes: here's what makes it memorable:
DISTINCTION
It all comes down to our philosophy of editing and curating selections for our customers. We eliminated the polish wall in favor of color options displayed via a look book. Our look books follow fashion seasons, so we offer Spring / Summer and Fall / Winter books. Additionally, we will occasionally have smaller capsule collections throughout the year, so brands can send colors for review anytime. Our seasonal look books feature both color options as well as 25 design options, ranging from subtle to more artistic, with stud elements incorporated.  Each design is offered in a variety of color combinations, so our guests can customize their design via color.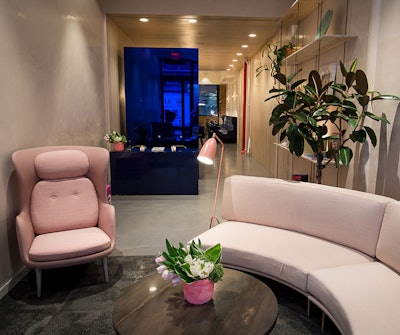 IN-DEMAND SERVICE
We offer four manicure options: Polish, Gel, Polish with design or Gel with design (Manicure Experience: Polish – $35; Gel $50; Design Experience: Polish – $55; Gel – $65). Our most popular service is the $65 gel design option. We don't charge for gel removal and we don't charge different fees for design. Clients are also not charged by number of colors, number of beads, etc. used in the designs we offer. At Paintbox, we do one thing and do it really well—and that's manicures. We believe the guest is the guest and should be treated to an expert experience, and the manicurist is the expert who provides the ultimate nail experience. The salon has 18 stations and employs celebrity and editorial manicurists.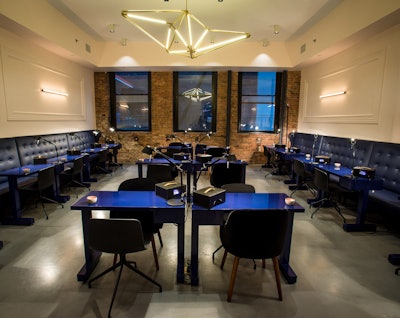 THE LOOK
The space boasts modern touches and furnishings, evoking the feeling of a classic French bistro-meets-intimate SoHo fashion boutique. It features a wall of exposed brick, high ceilings and an all-around airy vibe. The color scheme is my favorite combination: midnight blue and blush. I selected this particular midnight blue, as it's a bit softer and more welcoming than black, but still sexy and feminine. The secondary colors are touches of white and copper.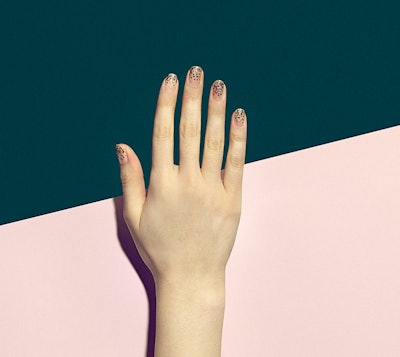 THE GOODS
A sampling of brands include (but is not limited to) Butter London, Chanel, Deborah Lippmann, Essie, Estee Lauder, Marc Jacobs and ZOYA. For gels, we're using Gelish and Presto.  
THE CLIENTELE
Our average customer is in her 20s or 30s.  She is connected and tuned into what's going on in New York City and beyond. She appreciates little details and signature touches. Guys are totally welcome, too, but as of now, only five percent of our clientele is male. (However, we offer scotch as a complimentary beverage for any waiting boyfriends or husbands and we offer complimentary beverages, including champagne, tea or iced coffee, to all our customers!)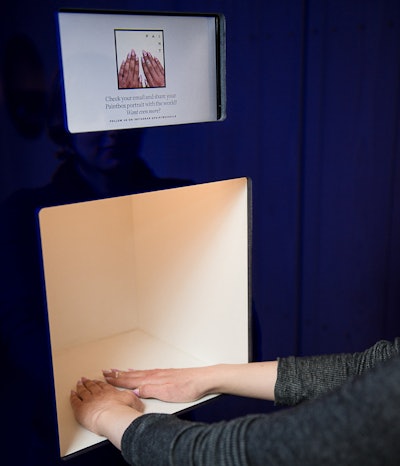 SOCIAL MEDIA
Instagram is our most effective channel right now, because our work is so visual. We also have a very cool, unique Photobox in our studio: Post-manicure, guests can pose their hands for a stylized, still-life quality "hand selfie." The photo is emailed to the guest directly and they can then share to social media (tagging @paintboxnails #paintboxmani). Our Nails of New York series on Tumblr (http://paintboxnails.tumblr.com) is also a huge hit, as it dives into our client's lives a bit more to tell her story.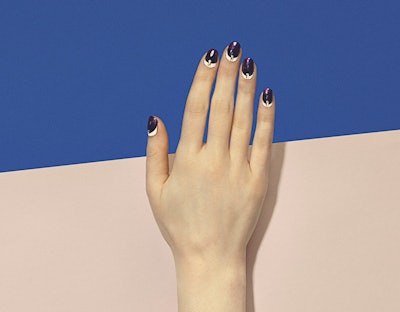 PRAISE
Our clients are huge fans and get really excited about the experience. One client told me, "You've given me an addiction to something I didn't even know that I wanted or needed in my life." That statement is so rewarding. It makes me smile every time I think of it.
ADVICE
Training and continuing education is paramount to salon success and getting clients to come back. We invest a ton of time on perfecting all of our experiences and take pride in our training procedures. At Paintbox, it's about the process and the end result.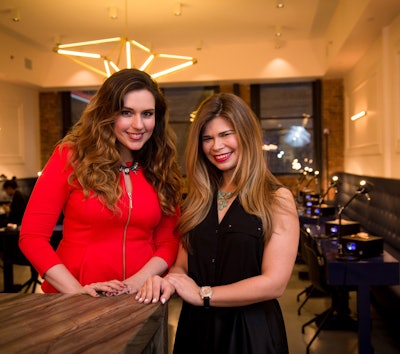 Paintbox owner Eleanor Langston (left) with the salon's creative director, celebrity manicurist Julie Kandalec.
Owner: Eleanor Langston
Year Opened: 2014
Address: 17 Crosby Street, New York, NY 10013
Phone Number: 212-219-2412
Hours of Operation: Monday, 3 p.m. – 9 p.m., Tuesday – Friday 11 a.m. – 9 p.m., Saturday, 9 a.m. – 9 p.m., Sunday 11 a.m. – 7 p.m.
Website: paint-box.com
[Images: Paintbox]