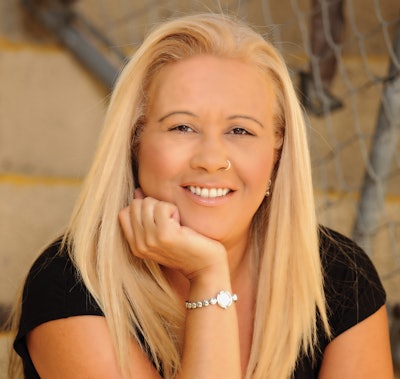 Adrienne Bailon, singer and host of Nail'd It, just revealed her go-to manicurist is Tracey Sutter – the same nail tech who also happened to do Bailon's talons for the cover of Nail It's September/October issue.
For the cover, rather than a skin-piercing stiletto, Bailon went with a more rounded almond style. It was actually CND Co-founder Jan Arnold who recommended Bailon go with the softer almond shape in order to elongate the nail beds. But that didn't stop Bailon from requesting an edgy look. Says Sutter, "Performers love to express themselves from top to bottom." And that definitely includes flawless nail art!
Bailon was such a fan of the cover nails that she left wearing them and, like a true performer, trotted them out on several red carpets. "There was even a paparazzi shot of just her nails!" Sutter beams. Right now, Sutter's biggest inspirations are different textiles and abstracts – perfect for the approaching autumn season. "I look at life as a blur of controlled and uncontrolled colors. I love the uncontrolled (abstract art) because it represents the wonder and the belief that anything and everything is possible."  
You can follow Tracey on Instagram at @tlsutter.
Sutter's work has appeared in ad campaigns for Revlon and Victoria's Secret, Italian Vogue and W magazines. She has also created nail looks for Lupita Nyong'o, Dakota Fanning, and Kirsten Dunst, among many others.
[Headshot: Tracey Sutter]