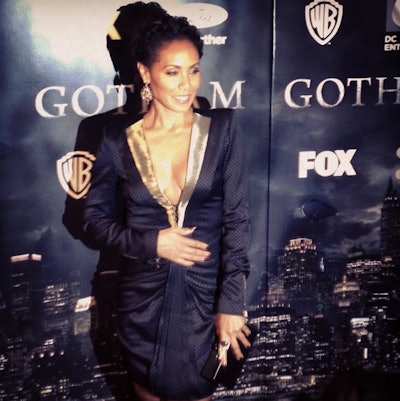 New York Fashion Week is flooded with celebrity faces; and at the Dennis Basso show, Jada Pinkett Smith was in attendance. Celebrity Manicurist and Color Curator for Dermelect Cosmeceuticals, Elle, created the gorgeous pointed look for Smith's fingertips.
Says Elle, "Jada's nail style recently has been really inspired by her show, Gotham, but it's funny how much it really correlated with what she was wearing to the Dennis Basso show, which made this nail art really wearable."
How To:
1. "I started by painting the nails in Dermelect 'ME' Lacquer in Debonnaire.
2. "After they dried, I painted a makeup sponge horizontally half and half with Debonnaire and a grey shade also by Dermelect, Excentric, keeping the bottom half of the sponge Debonnaire to help blend the ombré.
3. "I went through the nails one at a time, stamping each one with the sponge and repainting the sponge each time. We went through all ten nails twice each.
4. "Because we put the Debonnaire down first and because Jada's nails are so long, we didn't have to clean up the cuticle but on a shorter nail you might have to remove any stray polish from the skin using a small eyeshadow brush dipped in acetone.
5. "Since Jada's nails are stiletto-shaped, I used Chanel Black Satin to create really thin chevron tips to outline the point of her nail where the ombré started.
6. "Lastly, I sealed the entire look with Dermelect High Maintenance Instant Nail Thickener."
 
[Image: Instagram @gothamonfox]