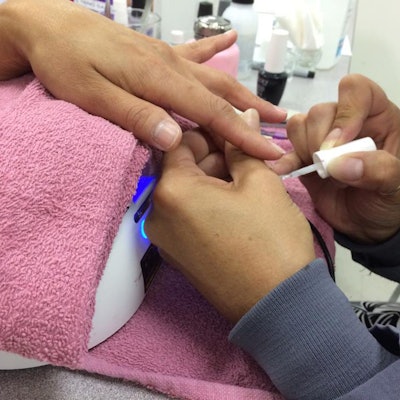 Follow Amie Pollard, nail school student and recipient of the Beauty Changes Lives|CND|Tippi Hedren Scholarship, through her days of school!
 
September 10, 2014
We're (almost) halfway there! That's right folks, it's week 9, and practically the halfway point to graduation! With only 3 chapters left in our books and state laws to do the clock is ticking fast! This week we did chapter 8, natural nail services. It was pretty much a review for us because we have been doing natural nail services all the way through. We read the chapter on Tuesday and tested out Wednesday (100! Woo!). My teacher laughed and said "I hope you get 100's from here on out because if you don't, you're doing to be so disappointed!" We'll see what happens!
We did not have a practical lesson this week because we had our intermediate practical exam (100 hours exam). We had to do 2 full basic manicures (one red polish, one French polish) and a basic pedicure. It's awesome to see how our confidence levels have increased since we had our freshman evaluation. The only thing that I was really nervous about was finishing in the allotted time. We got 30 minutes for each manicure, and an hour for the pedicure. After all 3 scores were averaged together I got a 95, which I was completely happy with!
Thursday night we had clinic and it was so dead, so we worked on each other and on cosmetology students. I have been focused on getting my spa services done because they take a bit longer than regular services. We use OPI spa products in our clinic for the spa manis and pedis. Every salon that offers spa services is going to do things a little different. Some salons offer a special scrub; some offer a special mask, and some incorporate reflexology into the massage. The spa manis and pedis in our clinic include a softening cream, a sugar scrub, a deep conditioning mask, and special message lotion, along with cuticle care and polishing. Generally the cost of a spa service is double that of a basic service, but they are oh so worth it! See you next week!  -Amie
See all The Nail School Diaries
[Images: Amie Pollard]