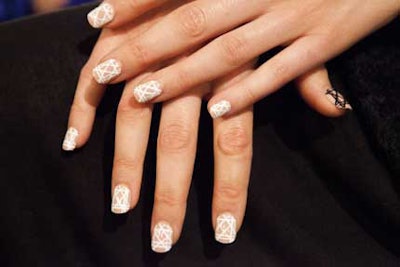 Inspired by heiress and activist, Nancy Cunard, the Bibhu Mohapatra Spring 2015 collection echoes the courage and strength of women who break the rules, follow their hearts and make their own destiny. Cunard's avant-guard style, is brought to life in the patterns, fabrics of silk and leather and ethereal color palette of Mohapatra's collection. To play off the patterns in the collection, manicurist Gina Edwards for KISS Products, Inc. used imPRESS in So, So Stellar, a perfect blush hue then hand painted the design using the KISS Nail Artist Paint in white and accenting the thumbs with black polish.  "The nail look perfectly complements the collection and graphic lines are in full force for spring," says Edwards
Get the Look: 
PREP 
1. Select the correct size imPRESS to fit each nail and set aside in order. 
2. Prep nails with the prep pad to remove all oils and lightly buff around the cuticles. 
3. Peel off and press on imPRESS. 
4. File nails to create a classic oval shape. 
POLISH 
1. Using the KISS Nail Artist Paint in white, paint 2 parallel stripes on opposite sides of each other. 
2. Create one line on top and 2 at the bottom. 
3. Place 2 criss-cross stripes at the bottom meeting the center of the nail. 
4. Duplicate again on the top of the nail. 
5. Apply KISS quick dry top coat and allow to dry.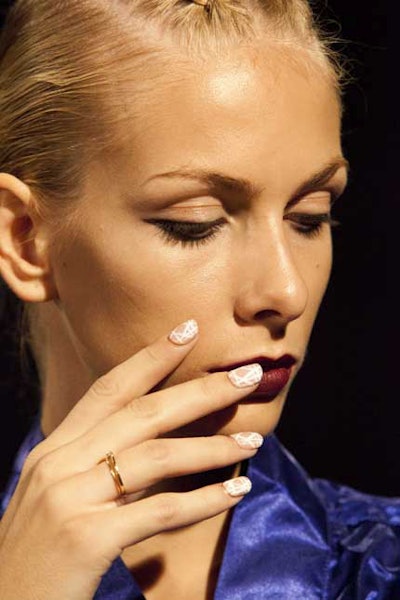 [Images: Kiss Products, Inc.]