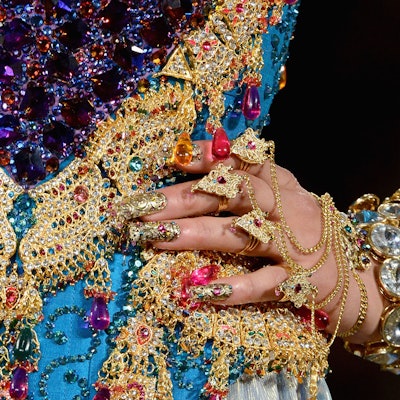 The Blonds show at New York Fashion Week always promises a nail art extravaganza by CND. Manicures are never limited to two dimensions or a singular style; and Spring/Summer 2015's theme was "Gangsta Genie" – which translated into edgy, over-the-top gypsy looks.
Says CND Co-founder and Style Director Jan Arnold, "The Blonds' aesthetic for this collection correlated perfectly with CND's Summer 2015 trend story, which is all about sculpted and dramatic silhouettes and intense seductive hues for a mysterious contrast of color and texture. CND and The Blonds just get each other – we're like family at this point!"
The entire collection was drenched in opulence: we saw beaded corsets, beaded nails, and pierced manicures with hanging jewels. Gold tassels adorned both garments and fingertips. The show's rose-studded body suits would put Beyoncé to shame and tattoo embellished talons would make Rihanna jealous. Simply put, not a single type of metallic accessory was missing from the stage.
Don't miss any of the outrageous styles – check out the gallery and video below!
 
[Images: CND]