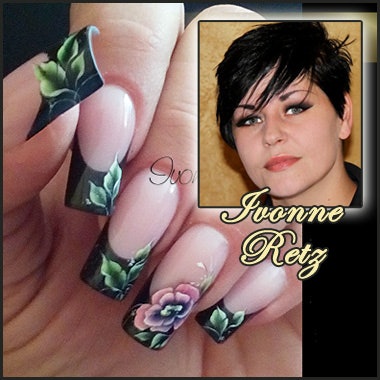 Welcome to NAILPRO's Nailed Down! where we "nail down" nail artists and technicians from our User Galleries and get to know them and their amazing work!
This week we visit Buttelstedt, Germany!
Meet Ivonne Retz:
Where do you work?
I worked for eight years in a nail salon, but through my work as a trainer and the ILF online store, unfortunately, I have no more time for my own salon. Currently, I have only a few selected customers, most nail designers.
How would you describe yourself?
I am an artist – with heart and soul 🙂
I'm always on the look-out for colors, textures, patterns and perfection. This applies to all facets of my life, not only in nail design.
How did you get started in the nail industry?
Almost 10 years ago I accompanied a friend to a treatment at a nail salon. It took about only about 15 minutes before I knew I wanted to be nail stylist. So I attended a training session and opened my salon about 3 months later.
What/Who inspires your work?
There are countless things that inspire me. But my biggest and most intense inspiration is nature. I love natural colors and shapes.
Are there any tools you can't live without?
Hmmm… my paints 🙂
What is your favorite technique/style?
I have no favorite technique. I like to create any shape, from the "Square" to the "Stiletto", with gel and acrylic. And, of course, I love nail art. Only stamps and stickers do not belong in my drawer.
What is your funniest/craziest nail story?
Oh, there are some. But the best was when a customer, in the middle of the treatment, received a marriage proposal from her boyfriend. It was so wonderful that I have never forgotten it.
What tip can you offer other nail technicians?
Continuous training and loyalty to yourself. As Nail Designers, we are often ridiculed. Let it never discourage you. Go your own way, and go with pride… always 😉
You can find Ivonne Retz on the web:
In the NAILPRO User Gallery: How-To and
ILF by Ivonne Retz
Website: www.ilf-nails.de
Facebook: ILF by Ivonne Retz
Shop for Nail Products: www.ilf-store.de
Click here for more Nailed Down! interviews »
Would you like to be featured in NAILED DOWN? Post images of your nail art to our User Gallery. We'll be highlighting outstanding artists based on those submissions! (minimum six pictures to qualify for consideration) NAILPRO reserves the right to edit submissions for length, grammar and clarity.