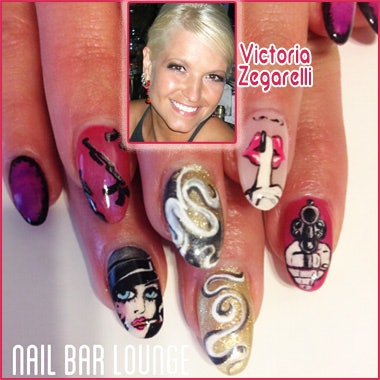 Welcome to NAILPRO's Nailed Down! where we "nail down" nail artists and technicians from our User Galleries and get to know them and their amazing work!
This week we visit Long Island, New York!
Meet Victoria Zegarelli:
Where do you work?
I divide my time doing nails inside a hair salon, at my residence, and on location. Freelance at its Finest.
How would you describe yourself?
I describe myself as a passionate nailist that is confidant enough to know that my current addiction to Nail Porn is a completely acceptable habit.
How did you get started in the nail industry?
I started doing nails 28 years ago by chance. I was taking an advertising course at a vocational school in high school. I was so far ahead of the class with the assignments that the instructor told me not to attend the class for a week so that the rest of the class could catch up. Since I had 8 years perfect attendance, staying out of the classroom was not an option, so I went down to the cosmetology class a friend was in. It was the manicure/pedicure section of the course that week. I immediately became interested and picked it up. When I started college I was studying to be an art teacher and doing nails for friends. During my third year, my parents were splitting up and both moved away, forcing me to go on my own. It was in the stars for me to do nails full-time rather than be an art teacher because now I do what love & love what I do!
What/Who inspires your work?
Life is my inspiration, but I really love when a client comes to me with a picture and I create my own interpretation on their nails. I'm always inspired when I'm in the presence of Jan Arnold. She has me hanging on to her every word when she is giving a presentation. She is so good at what she does, and when she's done, you feel like you can go out and conquer the world.
Are there any tools you can't live without?
I need all of my nail stuff!
What is your favorite technique/style?
I am loving the Stiletto or Almond nail shape right now. Personally, I won't go back to square anytime soon.
What is your funniest/craziest nail story?
Every time I finish a client's nails, I ask them, "Do you love them?" And I always get a pleased, "Yes!" When I did Leann Rimes' nails, I asked her the same question. At first she was wondering what I was talking about but quickly realized and responded with a happy yes. Later that day, I tweeted she was attending an event. She actually took the time to tweet, "Hey, Gorgeous! Loved my nails!" I fainted…
What tip can you offer other nail technicians?
All newbie nail techs should be active on social media. Knowing you have an audience will make you work harder to succeed. Challenge yourself by entering the nail art giveaways on Instagram, etc. If you think you're stuck or need trouble shooting advice, there are dozens of forums on Facebook or videos on YouTube that can help you out. Listen to Athena on Nail Talk Radio every Sunday night. You can chat along with other listeners and Braden keeps you in the know providing all the links to info discussed on the show. We're all here to help one another, so just ask 😉
Anything else you'd like to add?
My bucket list-dream is to open the mailbox one day and see my nail art work on the cover.
You can find Victoria Zegarelli on the web:
In the NAILPRO User Gallery: nail bar Lounge and V's Nail Couture
Linked In: Victoria Zegarelli
Facebook: nail bar Lounge
Facebook: Victoria Zegarelli
Twitter: @nailbarlounge
Google +: nailbarLounge
Instagram: nailbarlounge
Pinterest: Victoria Zegarelli ~nail bar Lounge
Tumblr: nailbarlounge
Click here for more Nailed Down! interviews »
Would you like to be featured in NAILED DOWN? Post images of your nail art to our User Gallery. We'll be highlighting outstanding artists based on those submissions! (minimum six pictures to qualify for consideration) NAILPRO reserves the right to edit submissions for length, grammar and clarity.