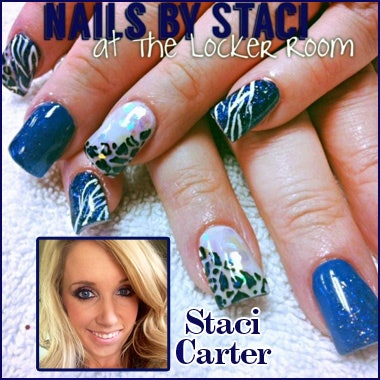 Welcome to NAILPRO's Nailed Down! where we "nail down" nail artists and technicians from our User Galleries and get to know them and their amazing work!
This week we visit Kimberly, Idaho!
Meet Staci Carter:
Where do you work?
I am the owner of Staci's Hair and Nail Salon (formerly as of recent The Locker Room Sports Salon).
How would you describe yourself?
First and foremost, I am a wife to an amazing husband who supports my awesome nail art addiction, and mother to 3 beautiful kids (Gage (9), Brayln (6), and Khloe (2)). I love spending time with the family playing/watching sports, enjoying the outdoors through hiking, fishing, and hunting, and doing some fantastic nail art for my second family- my clients! I love glitter, rhinestones, did I say glitter, oh and nail art!!! I can't get enough of any of it!!! I own my own little salon in Kimberly, ID. This gives me the flexibility of being a wife and mother, and an awesome cosmetologist to all my clients.
How did you get started in the nail industry?
I was a stay at home mom, which I absolutely loved, but after I had my second child, I missed working with people on a daily basis. I needed something that was a career, that screamed "THIS IS MY PASSION" and I thought back to my high school days… using tooth picks and a ton of polish to paint cool things on my nails for each game I cheered at. So, I became a cosmetologist! Best thing ever (next to my honey and our chiclets)!!!
What/Who inspires your work?
My clients inspire my work! They keep me on the cutting edge of new techniques, phenomenal designs, and oh so much fun with colors!!! Not only thanks to my clients keeping me inspired, but I find inspiration in EVERYTHING around me from the cute shirt my daughter is wearing, all the fun camo I have for hunting, sports, etc!
Are there any tools you can't live without?
All my amazing nail pens, rhinestones, obscene amount of nail goodies and glitter, and what I call nail magic… OPI Axxium top coat!!! All of my nail stuff makes each set unique and special for each client. I need lots of brushes, pens, and more as all I do is hand drawn art!
What is your favorite technique/style?
I actually don't have a favorite!! What I love is each client is unique and has a very keen eye for fun designs. I love when every appointment is different and each set is original and fits that client's personality perfectly. I always love a challenge!!!
What is your craziest/funniest nail story?
I never wanted to do nails when I started in the cosmetology industry. I couldn't get enough hair color, and my patience level for nails, though I loved doing them, was just not there. One day I woke up, said I was going to start playing with nail designs again, and took off with it. I started with a few simple designs for clients to enjoy, and then designed a nail for every NFL team, and now it's endless! Funny to think I thought this wasn't my cup if tea… because I can't live without doing nails!
What tip can you offer other nail technicians?
Never say no. Never limit yourself. Always strive to be better from day to day. I am always studying nails, reading articles, watching videos, and practicing techniques and strategies over and over and over. Most important, don't sell yourself short and always be different than everyone else! Make every single client feel like they are your only client and never let them walk out with nails you wouldn't wear yourself.
Anything else you'd like to add?
Thank you to NAILPRO for this phenomenal opportunity!! It has made my year even better and it makes me want to become an even better nail artist. I love owning my own little salon and doing nails and I hope everyone has loved this little peek into my totally amazing obsession… NAILS!!!
You can find Staci Carter on the web:
In the NAILPRO User Gallery: Into the Wild
Facebook: Staci's Hair and Nail Salon
Pinterest: Staci's Nail Artistry
Click here for more Nailed Down! interviews »
Would you like to be featured in NAILED DOWN? Post images of your nail art to our User Gallery. We'll be highlighting outstanding artists based on those submissions! (minimum six pictures to qualify for consideration) NAILPRO reserves the right to edit submissions for length, grammar and clarity.