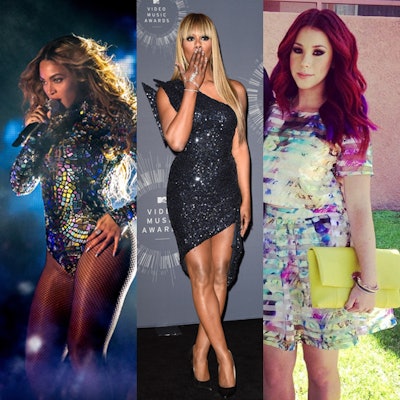 When you get the most creative and fashion-forward artists in the music industry together at MTV's annual Video Music Awards, you get awesome nails: fierce stilettos, cutting-edge nail art, and shimmery shades. Check out some of the top manicures that caught our eye at 2014's show!
Rita Ora rang up this year's most expensive set at an impressive $56,000. She wore Azature Black Diamond Nail Lacquer in Ruby Diamond (each bottle contains a black diamond) paired with tiny handcrafted ruby bows and sparkling diamond spiders designed especially for her "Black Widow" performance with Iggy Azalea.
[Image: Instagram @ritaora]
Beyoncé's bejeweled bodysuit was phenomenal, but her nails were surely not forgotten. The singer's signature pointed tips were done by celebrity manicurist Lisa Logan, who used Nails Inc. You can recreate the look with their Superfood NailKale Base Coat, Cambridge Terrace Polish, and plumping Gel Effect Top Coat with Kensington Caviar.
[Image: Getty Images Entertainment]
Laverne Cox who plays Sophia on Orange is the New Black had the edgiest nail art. Each nail was painted nude, the top half was outlined in navy, and a metallic gold band was used across the center of each tip.
[Image: Getty Images Entertainment]
Beauty vlogger Missglamorazzi (she has over 2.8 million subscribers) and newly chosen Glambassador for CoverGirl Ingrid Nilsen stepped onto the red carpet looking picture perfect. Nailing Hollywood's uber-talented Steph Stone used CoverGirl XL Nail Gel to give the Youtube sensation a fuchsia ombre manicure.
Fun fact: Ingrid even shows a video of her makeup application for the event here!
[Image: AFP/Getty]
Awkward's Jillian Rose Reed channeled street style with her graffiti nails done by manicurist Elsbeth Schuetz using Nailtini polishes, including: Amber Norell for Nailtini in Blue Blazer, Maryam Maquillage for Nailtini in Ginger Lily, and Nailtini lacquers in Grenadine, Admiral Perry and Espresso. The index finger on one hand and the ring finger on the other were studded with rhinestones and glitter as an accent.
[Images: Instagram @jillianrosereed]
Mary Lambert, best known as the female vocalist in Macklemore's "Same Love," looked flawless on the red carpet – but she had one secret. She painted her nails herself in the car ride over to the event! Amazingly, she didn't flood a single cuticle. We're pretty impressed. You can see her results up close and personal on page 9 here.
[Images: Instagram @marylambertsing]