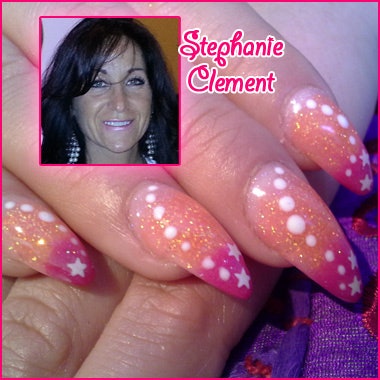 Welcome to NAILPRO's Nailed Down! where we "nail down" nail artists and technicians from our User Galleries and get to know them and their amazing work!
This week we visit Florida!
Meet Stephanie Clement:
Where do you work?
I live and work in a beach community on the east coast of Florida. I have a nail studio, "Stellar Nails by Stephanie," which is located inside of Hairteck, a popular beachside salon.
How would you describe yourself?
I would describe myself as outgoing, fun and professional. I'm always open to new design elements and ideas. I truly strive to exceed the client's expectations artistically while meeting their lifestyle needs. I feel it is important to keep the lines of communication open, and to make clients feel welcome and free to input or ask questions during the service to insure the best possible results. It makes me so happy when clients try something new and different for them and they text me days later to say how much they love it!
How did you get started in the nail industry?
I got started in the nail industry in New York at 16 in 1988. That's 26 years (so far)! I'm big on coordinating my nails to what I'm wearing and when I was about 14 years-old, I graduated from changing my polish almost daily to playing with acrylic. I got an instructional video and got to work, because I wanted pretty nails! I guess I did well, because two years later the salon owner noticed them on my visit to get my hair cut and offered me a job working in her salon on the spot! I still remember the color was called "Grape Suzette" made by a company called "Tantra." It was a rich purple with gold shimmer. Those nails were blinged out with rhinestones and gold striping!! Hard not to notice!
What/Who inspires your work?
I find I'm inspired by many different things. Sometimes it's a day at the beach, a beautiful style or color at the salon, the star pattern in the sky, a gorgeous new makeup color, love, anger, some hot studded high heels shoes, graffiti, or sometimes when I don't have any idea, I just play with all my gel or acrylic colors to see what happens organically.
Are there any tools you can't live without?
The tools I need most for nail survival are YN files and buffers, YN glitters (ALL OF THEM!!) CND Solar Oil, and CND Retention Plus System.
What is your favorite technique/style?
My favorite technique is reverse application. It allows for so much versatility as far as color options! I also love layering glitters over gel polish to see what cool effects can be achieved!
What is your craziest/funniest nail story?
I have some extremely loyal nail clients and was surprised when one was late for her nail services, which was out of character for her. When she arrived (late, but apologetic) she told me she was late because she got pulled over for speeding (normal for her, LOL) and the officer let her go without writing her a ticket because she had "really cool nails"!
What tip can you offer other nail technicians?
1) Practice, practice, practice! You have two hands and if you can achieve beautiful results on yourself, you can do nails on just about anyone!
2) Test drive new techniques and products on yourself first before using them on clients. Be an expert at all you're offering. Your reputation depends on it!
3) Be genuine, be yourself, be unique
Anything else you'd like to add?
Don't settle for anything less than Stellar!!!
You can find Pilar on the web:
In the NAILPRO User Gallery: Stellar Nails by Stephanie
Facebook: Stellar Nails by Stephanie
Click here for more Nailed Down! interviews »
Would you like to be featured in NAILED DOWN? Post images of your nail art to our User Gallery. We'll be highlighting outstanding artists based on those submissions! (minimum six pictures to qualify for consideration) NAILPRO reserves the right to edit submissions for length, grammar and clarity.