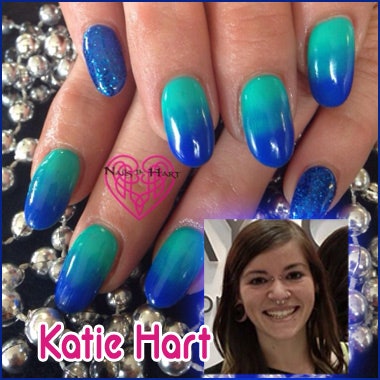 Welcome to NAILPRO's Nailed Down! where we "nail down" nail artists and technicians from our User Galleries and get to know them and their amazing work!
This week we visit Eugene, Oregon!
Meet Katie Hart:
Where do you work?
I am an independent contractor and rent a booth at Solar Beach Tanning, Hair & Nails: 1745 W 18th Ave, Eugene, Oregon 97402
How would you describe yourself?
An outgoing artist with a passion for nails.
How did you get started in the nail industry?
I went to high school half day in the mornings, and went to The Albany Academy of Cosmetology in the afternoons my senior year. I actually got my high school diploma a year early and finished nails and esthetics at the same time.
What/Who inspires your work?
Just about everything inspires my work. I love art and enjoy looking at multiple different artistic mediums.
Are there any tools you can't live without?
Acrylic Paint and Magnetik Art brushes.
What is your favorite technique/style?
Handpainted Nail Art and water color type designs.
What is your craziest/funniest nail story?
I was sitting at beauty school finishing up my gel on a client and wiping it off with nas 99, when she lit a lighter and my pants and hand caught on fire…. during class!
What tip can you offer other nail technicians?
When working with gels be sure to have Amy Becker's pin pen, it can always get rid of those frisky bubbles! Also, always be working to improve your education and skill set.
Anything else you'd like to add?
You're never too good at something to learn new things.
You can find Katie Hart on the web:
In the NAILPRO User Gallery: Nail Art by Katie Hart
Website: NailsbyHart.com
Style Seat: Katie Hart
Facebook: Nails by Katie Hart
Pinterest: Nails by Hart
Instagram: Nails by Katie Hart
Click here for more Nailed Down! interviews »
Would you like to be featured in NAILED DOWN? Post images of your nail art to our User Gallery. We'll be highlighting outstanding artists based on those submissions! (minimum six pictures to qualify for consideration) NAILPRO reserves the right to edit submissions for length, grammar and clarity.