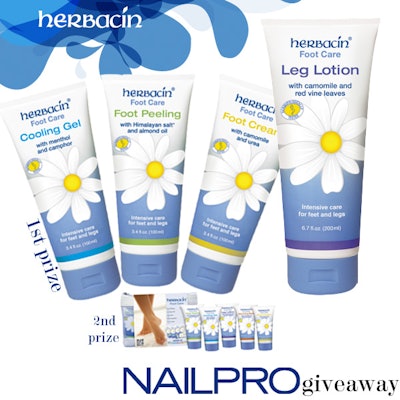 Win essential Foot Care lotions from Herbacin!
One first prize winner will score full-size tubes of the most popular pedicure lotions from Herbacin: Leg Lotion (6.7 fl. oz.), Foot Cream (3.4 fl.oz), Foot Peel (3.4 fl.oz), and Cooling Gel (3.4 fl. oz.).
One second prize winner will score the Herbacin Starter Set, which includes: a one ounce tube of leg lotion, a foot cream, a foot peeling lotion, a warming balm with carnosine and vitamin E, and a refreshing cooling gel with menthol and camphor.
HURRY! Contest ends Sunday, June 29th at midnight Pacific Time!?
Due to mail regulations, the giveaway will be limited to entrants in the United States.
[Images: Herbacin]