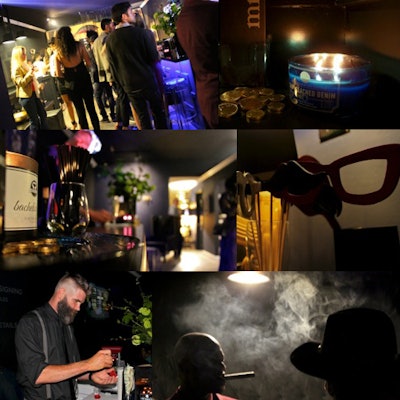 For men with the eloquence of James Bond, the swagger of Don Draper, and the rough edges of James Dean, the ultimate man cave and grooming spot has opened in West Hollywood. Owners Nana and Maston Kucheki recently cut the ribbon to the brand new Mr. Nail Lounge, a man-centered salon which boasts swanky, masculine black and gold décor, slate gray concrete floors, refined black walls, modern fixtures and opulent sinks that create a rich, mysterious ambience.
Men can choose from luxurious mani-pedi and massage services like The Black, Platinum, or Gold Card Treatment, which come with a complimentary beverage. While sitting back and relaxing in chairs, male clients can watch the best sports games throughout the season or favorite dramas like Mad Men, Breaking Bad, and Game of Thrones.
For even more information, visit: http://www.mrnaillounge.com
Mr. Nail Lounge is located at 9005 Melrose Ave in West Hollywood, CA.
[Images: Mr. Nail Lounge]