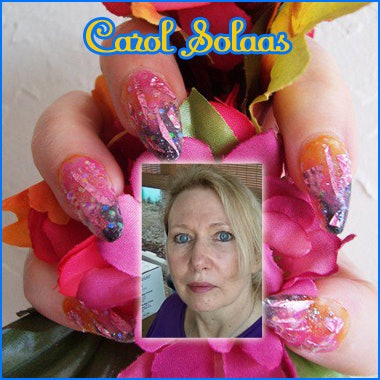 Welcome to NAILPRO's Nailed Down! where we "nail down" nail artists and technicians from our User Galleries and get to know them and their amazing work!
This week we visit Weeki Wachee, Florida!
Meet Carol Solaas:
How would you describe yourself?
I'm very laid back and love all kinds of art. I especially like art with nature in it. I have been to art school and fashion design school. I also have two degrees in business and computers. I do a lot of gardening and love the outdoors.
How did you get started in the nail industry?
It's pretty funny how I got started in the industry. High school was boring to me and I begged my mother to sign me out. She said if I went to cosmetology school (like my sister had) she would sign me out. So, hating every minute of school and being the rebellious 17 year-old that I was, I went to the Wilfred Academy. Ironically enough, my sister, who had ten years in the industry already, was one of my instructors! So I was on best behavior and graduated in 1977. I did hair for a few years and then got fascinated with nails. Back then, we worked with silks and linen. Then I started to hand-paint and do airbrushing on nails and I was a happy camper. I went on to entering the Who's Who nail competition in NYC and came in second place. I hand-painted "Alice in Wonderland." I entered again in the same year and came in first place by painting "Snow White and Seven Dwarfs." After that, I worked at a nail salon and taught nail airbrushing on Sundays at a local nail school. It was a big leap for me as I am agoraphobic and get panic attacks. But I did it and felt it opened up a whole new world for me. I started working with acrylic art and gel art on nails and experimented with many different media. I found my passion.
What/Who inspires your work?
I think nature inspired me the most. The colors of nature are the most wondrous of all.
Are there any tools you can't live without?
The tools I most like now are my electric drills. Back in the day, it was hard on the wrists doing all that filing.
What is your favorite technique/style?
I most enjoy doing stiletto nails with acrylic, gels and mixed media. I also love to see natural nails.
What is your craziest/funniest nail story?
Well, the one story that sticks out in my mind isn't very funny but sure was kind of crazy. I was working in a day spa and a woman came in frantic, she was going to a wedding and needed her nails done ASAP. She had on a nurse uniform and I took a look at her nails which had acrylic on them. Well, most of the acrylic was broken off and all 10 nails were green. I told her I would soak off the acrylic but I refused to put acrylic back on until her nails cleared up. She was livid, she asked to speak to my manager who was standing outside. My manager was the owner of the spa and knew nothing about the industry. She just bought the spa as an investment. I pointed to her and the woman went outside after yelling at me. While she was talking to my manager, the manager looked at me and I shook my head to say no. And the lady stormed off. I just thought how wrong this woman was to be a nurse and have such a bad nail fungus working with sick people. I was so happy when they banned the use of nail products in the medical field in NYC. She of all people should have known better.
Another story was when one of my clients had nails that were an inch and half long (mind you this is back in the silk and linen days). Every time she broke a nail she saved it so I could sanitize it and glue it back on and wrap it with linen. They were more linen than her nails! LOL. She came in to the salon one day and looked like someone had died, I asked her what was wrong and she said she broke a nail getting out of the bus. She told me she was on her hands and knees for an hour in the rain looking for her nail but couldn't find it. You see, she was so proud of her nails, she used to be a nail biter and worked hard to stop biting and started growing them as long as she could. She even had her bowling ball drilled out to fit her nails. I felt bad for her but reassured her that her nail would grow back. So I made her a nail out of linen (we also had no tips back then) and she gave me a hug and was happy.
What tip can you offer other nail technicians?
The tip I would give to nail techs is to have patience and listen to your client. When you are nice and give them a little something special, it makes them feel special and you always have a returning client. Some people just need to vent and we are the therapist as well as the nail tech. Know your craft inside and out and keep up with your learning. Everyday there is something new. So keep your smile when that lady is being rude. It makes you feel better about yourself. Besides, she might just be having a bad day. You're the professional, so act like one.
You can find Carol Solaas on the web:
In the NAILPRO User Gallery: Eclectic
Facebook: Carol Solaas
Website: http://trollholestudio.com
Click here for more Nailed Down! interviews »
Would you like to be featured in NAILED DOWN? Post images of your nail art to our User Gallery. We'll be highlighting outstanding artists based on those submissions! (minimum six pictures to qualify for consideration) NAILPRO reserves the right to edit submissions for length, grammar and clarity.