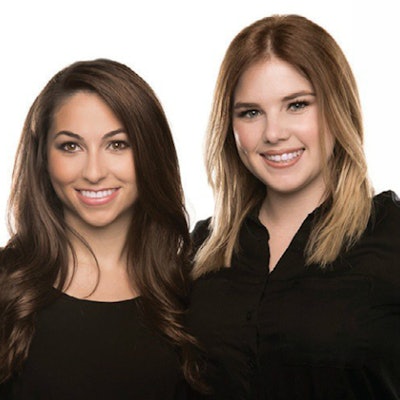 Meet Morgan Haile and Taylor Daniel, the inspiration behind Morgan Taylor and the offspring of Hand & Nail Harmony executives, CEO and Founder Danny Haile and President David Daniel, as we ask them a few questions!
Us: What was your first job ever?
Morgan Haile: I worked at a shoe store at the mall.
Taylor Daniel: I was a lifeguard and swim teacher at the local pool.
If you could be anybody famous, past or present, who would you be?
MH: Audrey Hepburn. She carried herself with such poise and elegance.
TD: F. Scott Fitzgerald. The Great Gatsby is my favorite novel and I'd love to know what the author was thinking when he wrote it.
 
What was your most embarrassing moment?
MH: In college, I wanted to wear a new pair of high heels to dinner. As my roommate and I were walking to the restaurant, I stepped into a pothole and fell in front of a group of people—so much for looking cute!
TD: When I broke my ankle in high school. I was attending a volleyball match when I tripped and fell down the bleachers in front of a gym full of people.
What is favorite song or type of music?
MH: Country music. I listen to it every morning while getting ready.
TD: "Pictures of You" by The Cure.
What is your favorite sport?
MH: Baseball. I've grown up watching the sport and my brother play.
TD: I am a die-hard hockey fan. I have two brothers who play, and the sport has been a huge part of my family's life for the past decade.
My favorite movie is…
MH: Breakfast at Tiffany's
TD: Across the Universe
My favorite type of food is…
MH: Sushi.
TD: Do Girl Scout Cookies count as a type of food?
Describe the best set of nails you've ever seen.
MH: There are so many talented nail technicians in the industry that it's difficult to choose. But, I'm definitely inspired by my Dad—watching him do nails with such passion is incredible to see.
TD: One of my favorite looks was created by Sandy Borges, a Gelish educator. It was called Birds of a Feather and was an acrylic inlay with an adorable hand-painted bird. The design and colors were so fun and beautiful, I just fell in love.
My guilty pleasure is…
MH: Sour patch kids.
TD: Lipstick. I've got just about every color and finish under the sun.
I can't discuss nails without…
MH: Smiling. I'm excited and happy about being a part of the industry.
TD: Asking a million and one questions. The beauty of working with so many talented nail techs is that there is always something to learn.
[Image: Morgan Taylor Lacquer; Hand & Nail Harmony]