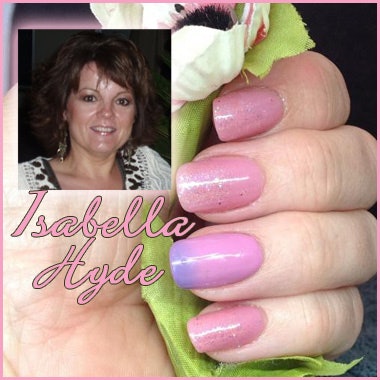 Welcome to NAILPRO's Nailed Down! where we "nail down" nail artists and technicians from our User Galleries and get to know them and their amazing work!
This week we visit Thorpe Willoughby, Selby, North Yorkshire in the UK!
Meet Isabella Hyde:
Where do you work?
I work from home. My business name is "Nails by Isabella." There is only me.
How would you describe yourself?
Self motivated, lively outgoing and a keen nail tech. I'm married with 2 children, although they have grown up and I now have 2 grandsons age 2, and 3 weeks.
How did you get started in the nail industry?
I was getting married in 1993 and I had my nails done, silk extensions. I carried on having them done until 1995 when I decided I'd like to do this myself. I went on a Star Nails course in York, and I have never looked back. Up till 2005, I worked a full time job selling houses, while building up my business and training on other systems. I was made redundant and it was then I took up doing this full time. I am disabled and struggle to walk, so it's just perfect. I love it. Besides being the main bread earner, I am passionate about it. And it comes across in my work and my clients.
What/Who inspires your work?
Jo Shirley, Red 10, Gemma Lambert, Marian Newman, Anthony Buckley and lots of other techs I come across via FB, magazines or classes I attend.
Are there any tools you can't live without?
My silk kit, acrylic brush and cuticle tools etc.
What is your favorite technique/style?
I really like silk extensions/wraps. It's been my favourite since I started. But since Shellac came out, I totally love Gel polishes. It's just the business for repairs.
What is your craziest/funniest nail story?
I had a chap who came in and asked for a manicure and pedicure. Nothing wrong in that, but he brought his own bright pink Max Factor polish with him!! For both fingers and toes? And he came in wearing a suit!
What tip can you offer other nail technicians?
Stick at training and keep up with trends, believe in yourself and practice, practice, practice!
Anything else you'd like to add?
Being in this industry is never boring. I'm constantly looking for new ideas. I try to have a go at most new concepts, especially nail art. I look for new trends, in new nail shapes and styles. In a salon, you don't tend to get much chance to try new things as most of my clients are fairly conservative, but I have a couple of ladies who allow me free reign. That's when I have most fun! I love meeting people and this job is just perfect!
You can find Isabella Hyde on the web:
In the NAILPRO User Gallery: Nails by Isabella, Selby. UK
Website: www.nailsbyisabella.co.uk
Pinterest: Isabella Hyde
Twitter: @hyde_izzy
Click here for more Nailed Down! interviews »
Would you like to be featured in NAILED DOWN? Post images of your nail art to our User Gallery. We'll be highlighting outstanding artists based on those submissions! (minimum six pictures to qualify for consideration) NAILPRO reserves the right to edit submissions for length, grammar and clarity.