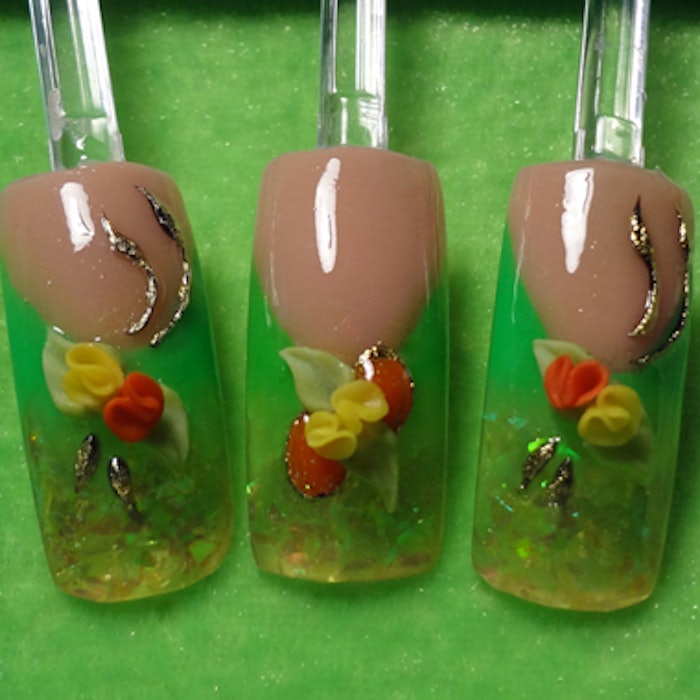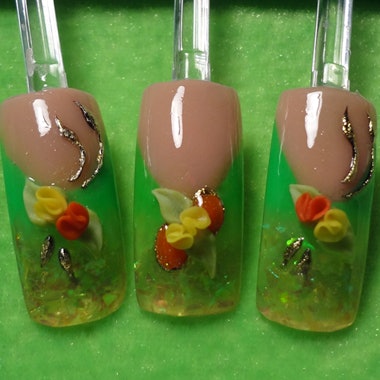 These lemon-lime nails are sure to be a conversation starter. Patrice "Tracie" McNeal gives us the details on how to create this sizzling neon design. Check out her step-by-step instructions!
Materials Needed:
Nude cover acrylic (for nail bed)
Clear acrylic (for free edge)
Yellow mylar (for free edge)
Neon lime green acrylic (for free edge fade)
Yellow color drops (for free edge)
Bright yellow acrylic (for 3-D flowers)
Bright orange acrylic (for 3-D flowers)
Soft spring green acrylic (for 3-D leaves)
Black 3-D gel (for gold details)
Fine detail brush (for 3-D gel)
Gold transfer foil (for gold detail)
Transfer foil glue (to apply foil)
Bright orange acrylic glitter mix (for gemstones-not too chunky)
Favorite regular or tact-free UV top coat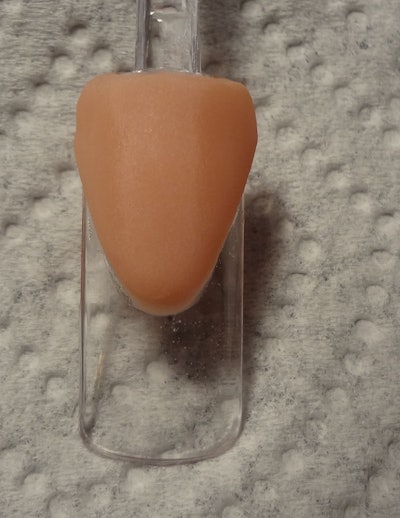 Step 1: Use nude cover acrylic to sculpt nail bed.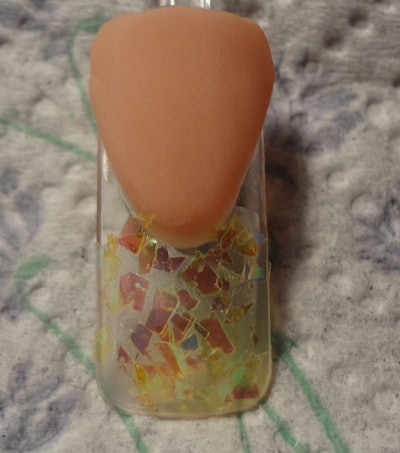 Step 2: Apply yellow mylar bits to free edge.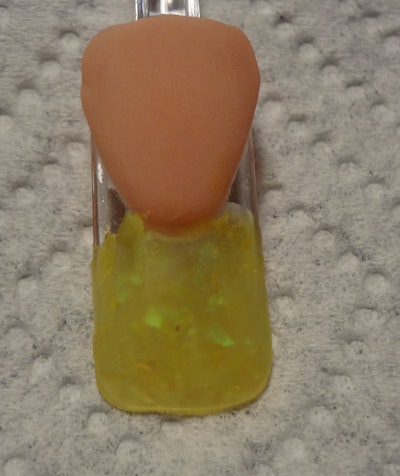 Step 3: Add 4-5 yellow color drops to remaining monomer, and use clear acrylic to cap mylar bits. »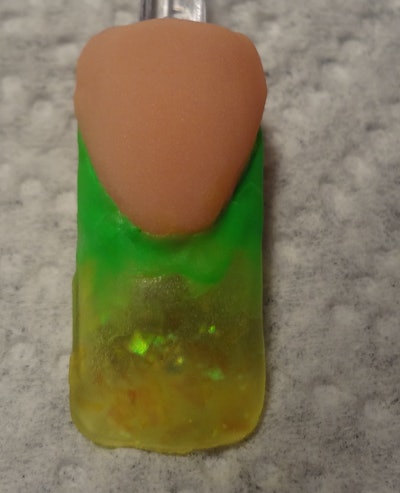 Step 4: Using the same yellow monomer, from the smile line, apply neon lime green acrylic and fade to meet yellow.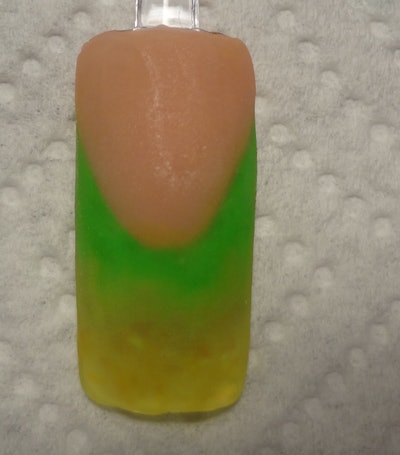 Step 5: Use clear acrylic & uncolored monomer to cap entire nail.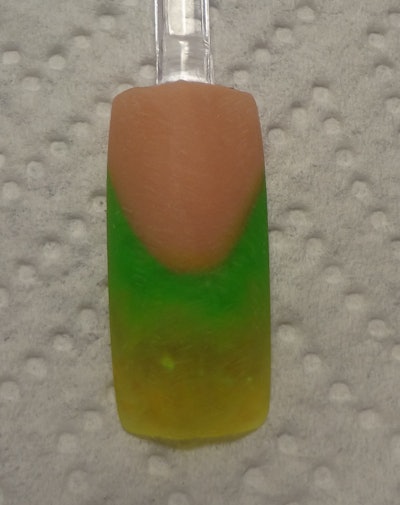 Step 6: File, shape, and cleanse nail.»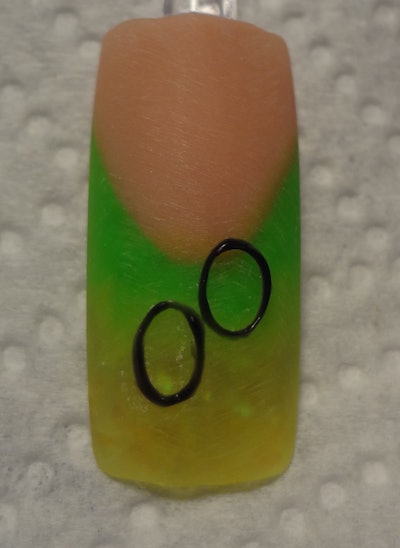 Step 7: Use detail brush to make 2 open oval shapes using 3-D gel, set diagonal to each other.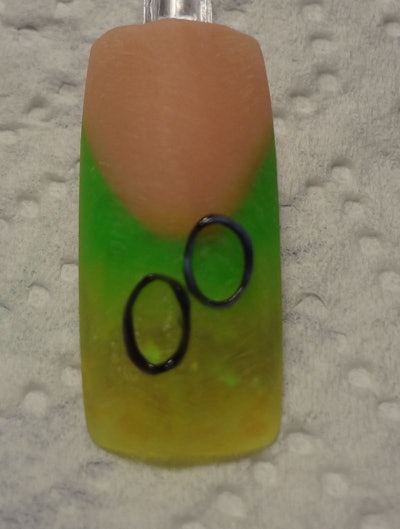 Step 8: Clean and use same detail brush to apply transfer foil glue to 3-D gel only. (Cure 2 mins. and remove all gel residue.)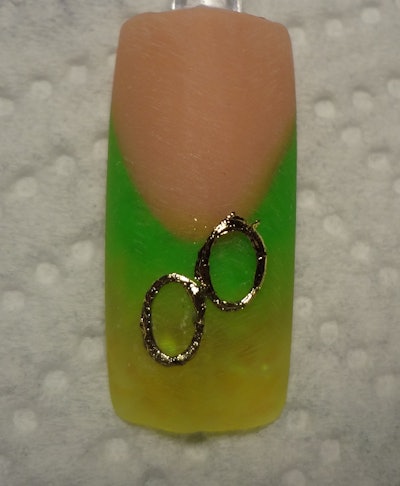 Step 9: When foil glue dries, apply gold transfer foil to 3-D gel ovals.»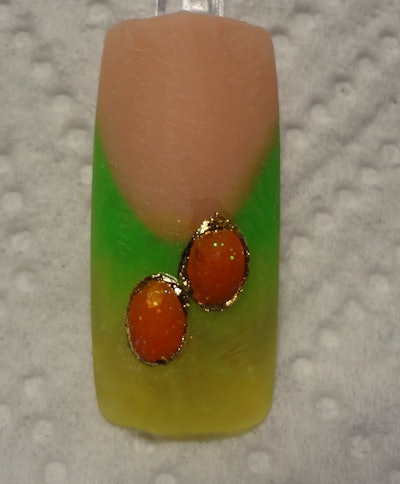 Step 10: Use bright orange acrylic glitter mix to apply a gemstone bead of acrylic inside each oval.
Now, between the two gemstones you're going to sculpt two 3-D acrylic leaves and two flowers.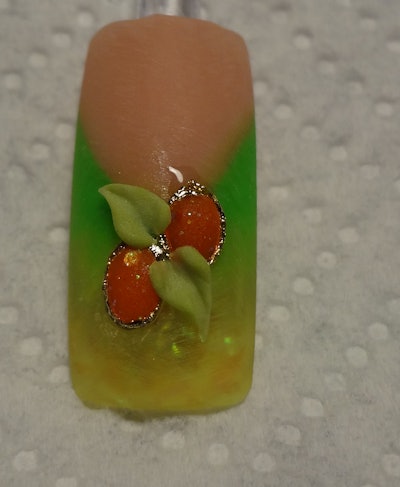 Step 11: Use spring green acrylic to sculpt two small leaves (angled opposite of each other) between the two gemstones.»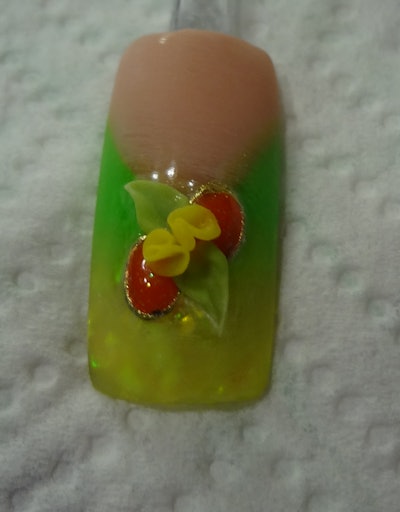 Step 12: Sculpt 2 small flowers of your choice between the two leaves. (Flowers can be sculpted OFF the nail, and then applied to leaves.)
*Extra detail—Step 13: If you'd like to accent remaining nails, repeat steps 11 &12 on each nail.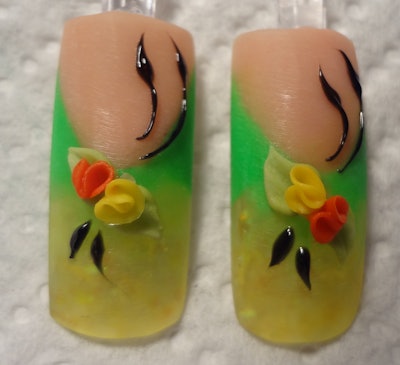 Step 14 & 14a: For additional gold accent, repeat steps 7-9 using sweeps, swirls, or leaf patterns around flowers.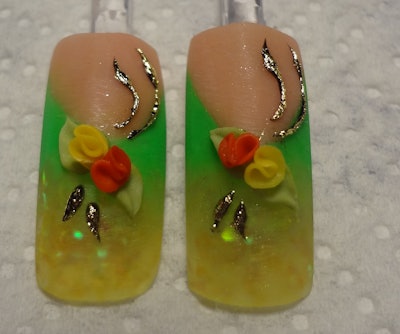 »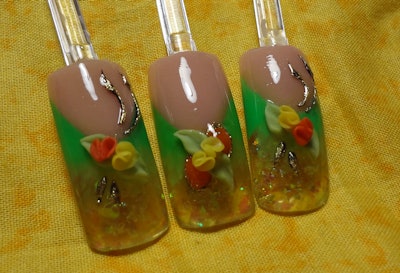 Step 15: Seal all around flowers with favorite top coat or tactless UV top coat.
The Finished Look: