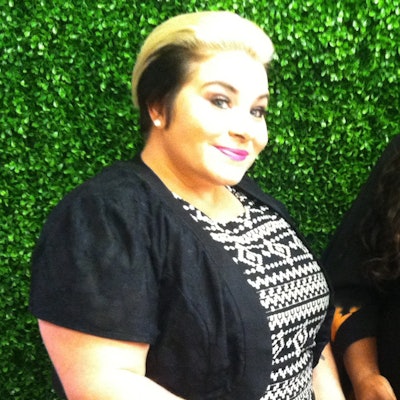 Naja Rickette, reality star in WETV's LA Hair, Guinness World Record holder, and manicurist to A-listers like Katy Perry, Lady Gaga, Fergie, Mariah Carey, Pink and Miranda Lambert, is an expert of sorts on all things nails. Fortunately, the nail artist shared some of her top predictions for summer nail trends. Read more in the Q&A with her below.
Question: As a nail stylist to the stars, you are always at the forefront of new nail trends.  What are some of your favorite trends right now?
Naja: I am such a fan of the whole negative space craze. It offers so many creative ideas and really makes the colors that I use "pop" up against the blank space. I, personally, am going through a black and white phase. For the past few months I have been wearing only black and white on my nails. I can go with any design, but it just has to be black and white. I am also loving the 3-D full nail shield pieces I'm seeing all over Los Angeles.
 
What nail shapes and trends do you see emerging for summer of 2014?
The shapes will be more subtle and classic than in the past years when the long, exaggerated pointed talons were popular. Length can still be there but with a shorter, more oval shape.
 
Short, natural nails with bold colors will be a summer signature. Think primary colors (like Legos) in rich hues of yellow, blue or green. Nail art is here to stay and this summer the accent nail is out!! Think along the lines of having two-tonal nail art; choosing two to three colors with lines, shape, color blocking or fades all the same style on each finger.
 
I am always a fan of white nails for the summer on hands and feet – try Essie Blanc. If you have never tried white on the entire nail, you might be skeptical at first, but once you give it a shot you will be hooked!
 
Do you have any tips for readers who love to do at-home manicures?
I sure do!  Always use a base and top coat. I have learned that at-home DIYers often skip these two vital steps. These steps are essential! A quick way to get your hands ready for a night out on the town is to remove all old polish, shape nails, then apply a good hand scrub (body scrub works well too) and get into the nail bed and cuticle area.  Do this by rubbing the scrub up towards the knuckle on each individual finger. Wash hands, cleanse the nail plate, and start polishing.
 
Also, throw away your file from 1998. Using it is the same as using a dull knife. You must know when to replace your file – when it no longer has any grit and is WAY smoother than when you first bought it, then it is time for a new one!
 
What advice would you give to readers who want to keep their pedicures in great shape during summer beach season?
Gel polish on the toes is a great option for fresh summertime toes. Gel polish will not have chipping and the shine is not dulled by sandy beaches.
 
Also, to make your feet vacation-ready all year around, apply lotion to them every morning after your shower. Also, at night time, apply a thicker lotion to your feet and wrap them up or wear socks overnight to allow them to soak in the moisture.
[Image: RMJ Group, LLC]