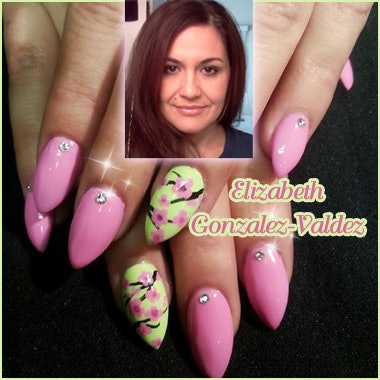 Welcome to NAILPRO's Nailed Down! where we "nail down" nail artists and technicians from our User Galleries and get to know them and their amazing work!
This week we visit Tucson, Arizona!
Meet Elizabeth Gonzalez-Valdez:
Where do you work?
I'm an independent contractor at Evolve Style Lounge.
How would you describe yourself?
I'm easy going, fun to be around, compassionate, motivated and I love my family! I love life and all the beauty in it! Everyday is a new beginning.
How did you get started in the nail industry?
Nails saved my life! I have always loved doing nails but it wasn't until I was in a very abusive relationship that I remembered my passion for nails and nail art. After enrolling in nail school and realizing I had this talent, it helped to build my confidence and shortly after that I had the courage to leave the abusive situation. I graduated in 2010. You can can say I'm still fairly new to the industry. I'm grateful to be here and to be given the opportunity to create smiles and beautiful nails all at the same time!
What/Who inspires your work?
I'm inspired by a lot of different sources: fashion, nature, Greg Salos from Young Nails and all the wonderfully talented techs out there! Plus, my mentor, Debbie Bonillas, who has been in the industry for 17 years! She is amazing.
Are there any tools you can't live without?
I could never live without my two sided buffer from Young Nails.
What is your favorite technique/style?
My favorite method for applying acrylic is a 3ball method.
What is your craziest/funniest nail story?
Oh wow, I can't think of my craziest nail moment. However, every day is filled with laughs at my nail station. I truly do have a great time with each one of my clients.
What tip can you offer other nail technicians?
My advice to other nail techs is to always stay humble and be willing to help others in the industry. There is more than enough business to go around. I'm thankful for all the talented technicians who have helped me and continue to help. You never stop learning in this industry!
You can find Elizabeth Gonzalez-Valdez on the web:
In the NAILPRO User Gallery: Nailz by Elizabeth
Facebook: Nailz by Elizabeth
Instagram: @nailzbyelizabeth
Click here for more Nailed Down! interviews »
Would you like to be featured in NAILED DOWN? Post images of your nail art to our User Gallery. We'll be highlighting outstanding artists based on those submissions! (minimum six pictures to qualify for consideration) NAILPRO reserves the right to edit submissions for length, grammar and clarity.