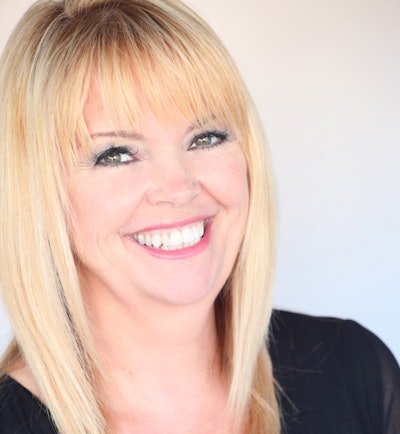 Meet Carla Collier, International industry expert, veteran nail technician and NAILPRO Competitions head judge!
Us: What was your first job in the industry?
Carla: I worked as a nail tech at Styles by Phil, and my first educator position was with Galaxy Nail Products.
If you could be anybody famous, who would you be?
Lucille Ball.
What inspires you?
Color!
What was your proudest accomplishment?
The first time I won a 1st place trophy.
What was your most embarrassing moment?
I'm not easily embarrassed, but I can say that I'm horrible with names. I will call someone I've known for years a similar name instead of his or her real name. That is embarrassing!
What is your favorite song?
"Landslide" by Fleetwood Mac.
My favorite sport is …
I love basketball!
My favorite movie is …
Elf.
Describe your perfect day.
Sitting on my favorite beach with my love and a bottle of good wine.
My most treasured possession is …
All the photos of my kids growing up.
My favorite type of food is …
Anything Mediterranean.
What was your most recent impulse buy?
A Swarovski bracelet I bought at the Paris Hotel and Casino in Las Vegas.
My guilty pleasure is …
Vosges Haut Chocolat Truffles! I have to get them every time I enter Chicago O'Hare airport! I cannot pass them up!
Describe the best set of nails you've ever seen.
That's tough because I've judged nails done by some of the greatest artists in the world! Although I'd have to say that a pink-and-white sculptured set were the best I've ever seen. They were outstanding in all aspects: perfect C-curves and smile lines, a cuticle area completely covered and flush to the natural nail without one moon filed off, arches in the exact same spot on every nail, polish completely and smoothly covering all of the edges, the perfect hairline next to the cuticle, and matching lengths from nail to nail. It was eye candy for me–consistent and nearly perfect in every way.
I can't discuss nails without…
Passion lighting me up!
[Image: Carla Collier]