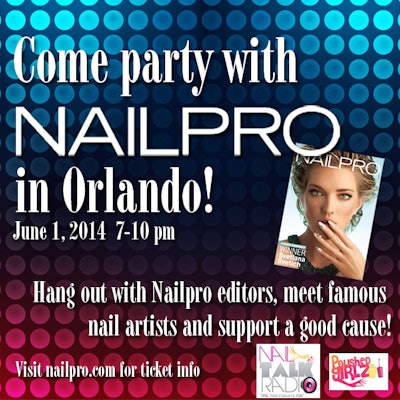 Join NAIL TALK RADIO & NAILPRO Magazine for an evening of inspiration and giving back—plus the opportunity to socialize with nail industry superstars!June 1, 2014 • 7:00 p.m. – 10:00 p.m.
Rosen Centre Hotel – Grand Ballroom D
9840 International Drive, Orlando, FL 32819
Come party with Nailpro magazine in Orlando while mingling with a swarm of incredible nail technicians and industry leaders and supporting a great cause – Polished Girlz. The evening will include the opportunity to network and socialize over cocktails and hors d'oeuvres, followed by a panel discussion hosted by Nail Talk Radio, featuring founder of the Polished Girlz Alanna Wall and 11 other nail superstars. Finally, you'll be able to get your Nail Talk Radio/Polished Girlz T-shirt signed by your favorite artist!
The Polished Girlz foundation, created and founded by 14-year-old Alanna Wall, brings sparkle to the lives of girls with special needs or frequent hospitalizations by bringing the trendiest nail art parties to them. As an organization, the Polished Girlz seeks to empower not only their clients, but also their volunteers, by offering them opportunities to improve the quality of life, build invaluable leadership skills, and get involved with community service.
Athena Elliot, founder of Nail Talk Radio, developed a line of T-shirts to support the Polished Girlz organization. The 12 limited edition tees feature nail art from some of today's hottest nail technicians (including Alanna Wall herself)! ONLY 100 of each shirt will be printed! Own a tee that is made BY nail technicians, FOR nail technicians!
Not only is the stunning design a must-have, but 10% of every sale goes to the charity, Polished Girlz. Click on PURCHASE MY TEE! to buy yours today and bring it with you to the Event to have it signed by the artist that created it!
(Artists include: WildSide Nails, Elaine Watson, Catherine Wong, AstroWifey, Mr. Luis, Amy Becker, Naja Rickette, Gina Silvestro, Lisa Korallus, Lauren Wiremen, and Alanna Wall.)
Advance Registration – Special Offer Expires Friday, May 23, 2014
Note: Pre-ordering has ended. Please purchase your tickets at the door.