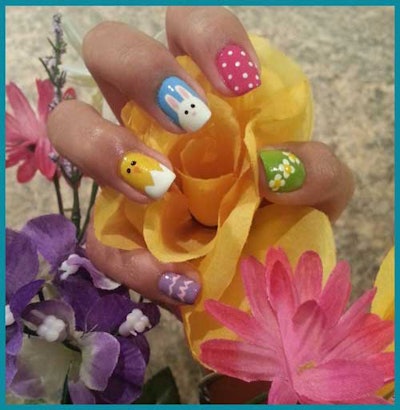 Nail artist and educator Esmeralda Martinez shares how to create an adorable Easter manicure featuring cute baby animals and a colorful spring palette. Follow these steps to get the look:
Products and Tools:
1. Base Coat
2. Nail art polish in: black, white, pink, & orange
3. Select 5 pastel nail colors
4. Dotting tools
5. Paint tray
6. Top coat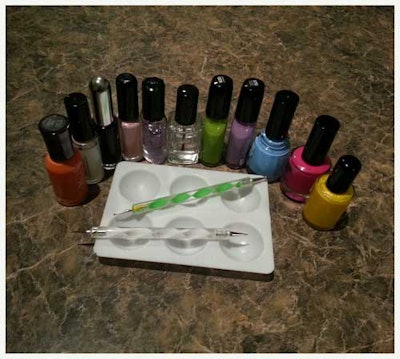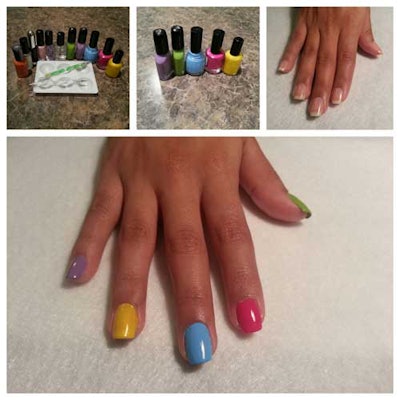 1. Paint a base coat.
2. Polish each nail with one of the 5 pastel colors you chose. Each nail should be painted a different color.
3. Start with your pinky and move across to the thumb for the nail designs.
4. The Wavy Egg:
-Use the pink nail art polish and make 2 wavy lines on your pinky.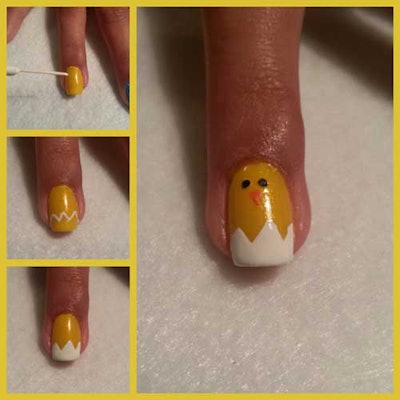 5. The hatched chick:
-Use the white nail art polish and make a wavy line across the top third of the nail.
-Color the top part of the nail white (egg shell).
-On the yellow part of the nail using the dotting tool, make the eyes with black.
-Make an orange triangle for the beak (chick).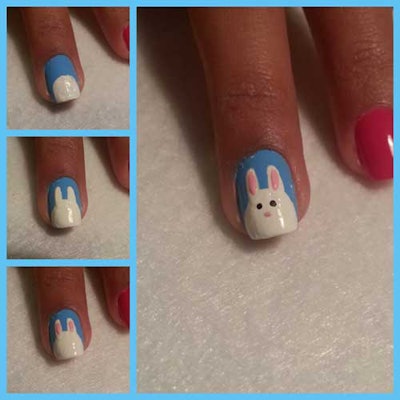 6. Bunny:
-Use the dotting tool to make the head. Use white polish starting in the center of the nail and work towards the bottom of the nail.
-Use the white nail polish to make the ears.
-Use the pink nail polish to color the center of the ears.
-Use the dotting tools for the eyes & nose (pink).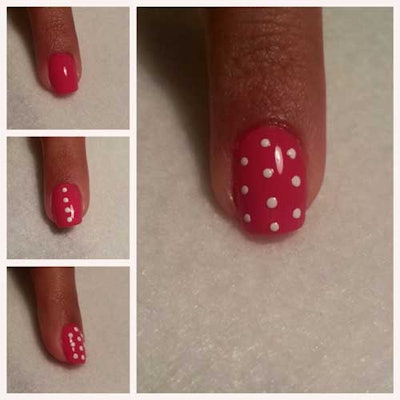 7. Dotted Egg:
-Make 4 white dots in the middle of the nail from top to bottom.
-Make 3 white dots on each side of the nail.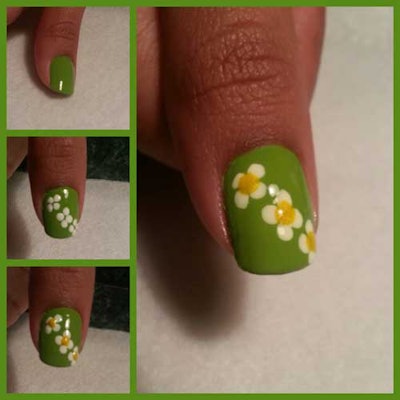 8. Flowers:
-Make 4 medium size white dots for the petals.
-Use yellow for the center of the flower.
-Repeat the same steps for the other 2 flowers (make a diagonal row of flowers).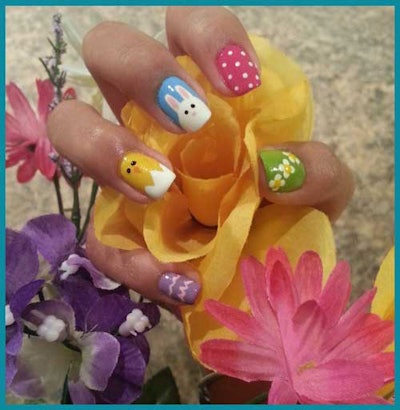 9. Finish with a top coat.
[Images courtesy of Esmeralda Martinez from @gorgeousnails1]