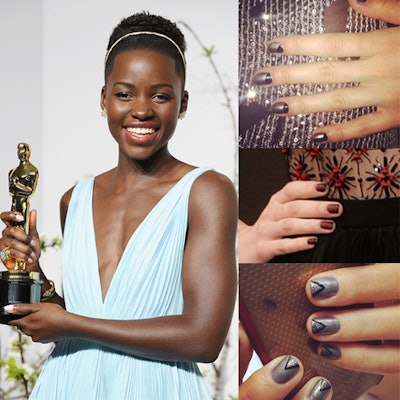 As one of the most prestigious events of the year, the Academy Awards demands a faultless wardrobe, perfectly styled hair, and meticulously designed nails. Each season, the best of Hollywood's manicurists must buff nails with precision and even conceive entirely new shades by mixing lacquers or layering polishes. Check out some of the styles donned at this year's Oscars.

The belle of the ball was Lupita Nyong'o, with a flowing Cinderella-esque gown whose color was especially personal to her: "It's a blue that reminds me of Nairobi, so I wanted to have a little bit of home." The frog on her ring represented her family totem. Deborah Lippmann dressed her tips with Gel Lab Base Coat, two coats of the pale pink shimmer La Vie En Rose, and a final layer of Gel Lab Top Coat.
[Images: Getty/WireImage; Instagram @DeborahLippmann]
Katie Jane Hughes painted Caitlin Fitzgerald's tips with Butter London colors: the silvery grey background color is Chimney Sweep, with Union Jack Black used on the moons.
[Images: Twitter @CaitlinFitzG]
We adored the matching detailing, clutch, and manicure Anna Kendrick sported on the red carpet. Katie Jane Hughes used a crimson Butter London hue set to launch later in the year, a matte finish, and a swipe of black polish on the free edge.
[Image: Getty]
Kerry Washington may have been rocking a baby bump at the 2014 Oscars, but she was flawless and absolutely glowing on the red carpet. To match Washington's Jason Wu gown, manicurist Katie Jane Hughes styled the actress' fingertips with two coats of Butter London La Moss, a coat of Saucy Jack, followed with Matte Finish Shine Free Topcoat.
[Instagram: Instagram @KerryWashington]
Maria Menounos' shiny, silvery nails wore like jewelry. Katie Jane Hughes began by mixing a custom shade using Butter London Union Jack Black and Pearly Queen for the background. She then added a black chevron on each tip, and filled in each with a pewter-color Gobsmacked. The whole style was topped with Butter London Patent Gel Top & Tails Topcoat.
[Images: Instagram @mariamenounos, @katiejanehughes]
Though host Ellen DeGeneres went au naturel with her manicure, her nails had been perfectly pampered by Deborah Lippmann. Lippmann buffed the tips, used her Smooth Operator 4-way buffer sides 1 and 2 to shape them, and then buffed the entire nail again using side 3 for a casual, matte finish.
[Images: Instagram @theellenshow]
Jennifer Lawrence also had a visit from Deborah Lippmann. The color was a pinky nude, which was a subtle complement to her bright crimson Dior dress. This unique shade was done using a preliminary layer of Deborah Lippmann Gel Lab Base Coat, a coat of sheer pink Sarah Smile, a coat of soft Pink Tiny Dancer, and a final layer of Gel Lab Top Coat.
[Image: Getty/WireImage]
Angelina Jolie held herself with grace and femininity as usual – and so the Essie hue chosen for her fingertips was the perfect fit. Celebrity manicurist Emi Kudo chose "Sugar Daddy – the perfect shimmery pink to complement Angelina's classic beauty and gorgeous Elie Saab Haute Couture gown."
[Image: Getty]
Model and wife to Matthew McConaughey, Camilla Alves, arrived at the awards wearing the perfect shade of pink and cape that flowed elegantly behind her. Celebrity manicurist Jolene Brodeur applied Azature Cream Diamond to Camila's nails, which then perfectly matched her gown and clutch.
[Image: Getty/WireImage]