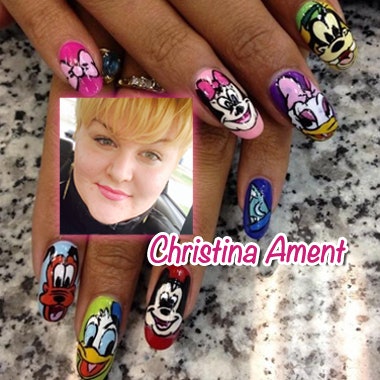 Welcome to NAILPRO's Nailed Down! where we "nail down" nail artists and technicians from our User Galleries and get to know them and their amazing work!
This week we visit Virginia Beach, VA.
Meet Christina Ament:
Where do you work?
I am the owner of the salon, Nails by Christina.
How would you describe yourself?
I'm funny, kind hearted, creative, and motivated.
How did you get started in the nail industry?
I always had an interest in nails and cosmetology, so I took a nail technician course and got my license. I started out doing just manicures and pedicures, and then slowly I worked my way up to acrylic and nail art.
What/Who inspires your work?
I'm inspired by patterns I see and music.
Are there any tools you can't live without?
MY RHINESTONE PICKER PENCIL!!
What is your favorite technique/style?
I love doing long stiletto nails.
What tip can you offer other nail technicians?
Keep practicing and don't ever say you can't do something. Try everything at least once and if it doesn't come out how you want it to, keep trying. Have fun with your work.
You can find Christina Ament on the web:
In the NAILPRO User Gallery: Handpainted Nail Art
Instagram: nailsbyistinakre
Click here for more Nailed Down! interviews »
Would you like to be featured in NAILED DOWN? Post images of your nail art to our User Gallery. We'll be highlighting outstanding artists based on those submissions! (minimum six pictures to qualify for consideration) NAILPRO reserves the right to edit submissions for length, grammar and clarity.