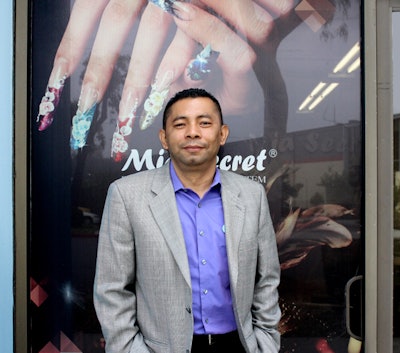 Get to know the face behind Mia Secret. Roberto Mejia, founder of the brand and international businessman gives us a better look into his life.
Nailpro: What was your first job ever?
Mejia: Painting pillows.
What was your first job in the industry?
I was a sales rep for a cosmetic company before I started to sell nail products part-time on my own.
Who would you like to work with?
Bill Gates.
 
If you could be anybody famous, who would you be?
Nobody else, I just want to be me.
 
What inspires you?
I set short and long-term goals and I push myself to achieve them. I like to read stories about people who started their business from zero and now have empires.
My proudest accomplishment is…
Being the founder of Mia Secret and selling its brand in over 50 countries.
Describe your perfect day.
Getting up, praying, having a good breakfast with my family at home, taking my daughter to school, getting to my office, talking to my clients and working on new projects. I love to challenge myself to do something better than what I did yesterday, and at the end of the day I go to my church.
My most treasured possession is…
My faith in God.
Describe the best set of nails you've ever seen.  
A great set of French acrylic tips. The nail technician used a beautiful cover pink for the nail bed and a pure white for the French. She did a half-moon with the white. They looked impeccable; they looked gorgeous and they were perfect.
What is your guilty pleasure?
Sweet bread.
I can't discuss nails without…
A cup of coffee.
What are you wearing on your nails right now?
Mia Secret Ultra Gloss Top Coat.
[Image: Roberto Mejia/MiaSecret]