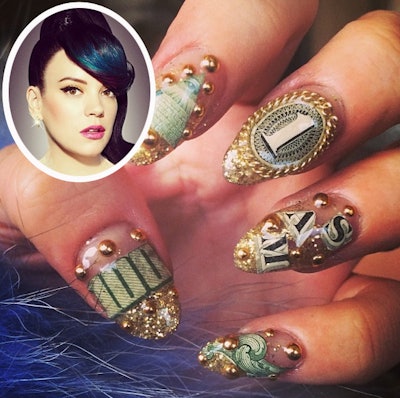 Lily Allen has been deemed the "Queen Of Nail Art" and we can definitely see why. The recording artist easily outdoes Zooey Deschanel in her outrageous manicures, and doesn't hold back on sharing her latest designs with fans. Click through to see proof this girl isn't afraid of seeking a pro to get polished.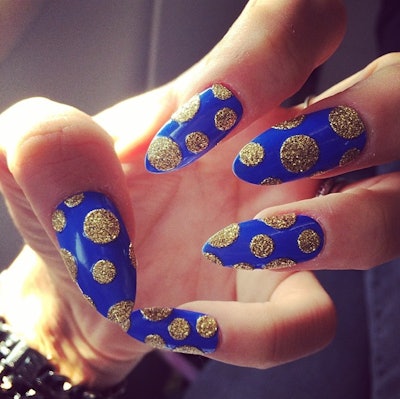 Fun and almost circus-worthy, these tips were done by Lily's main manicurist Michelle Humphrey.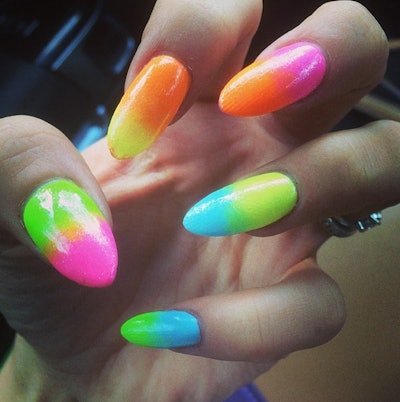 Everyone's gotta ombre once in awhile. (Nails by Michelle Humphrey)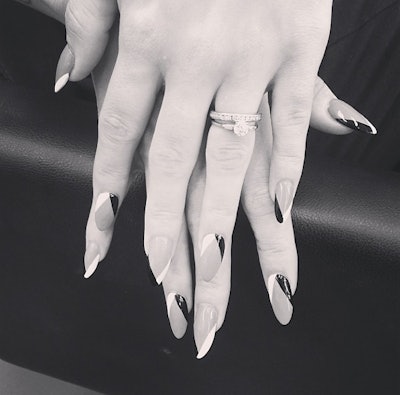 Her mani gets monochrome. (Nails by Michelle Humphrey)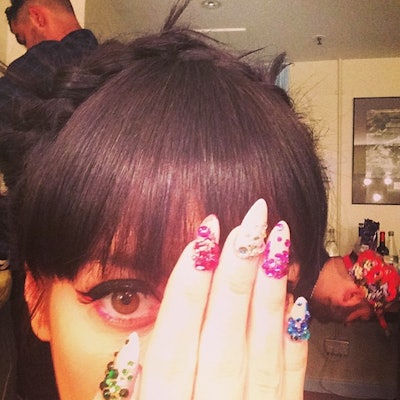 Lily's nails get bedecked in rhinestones for her appearance at the Royal Albert Hall.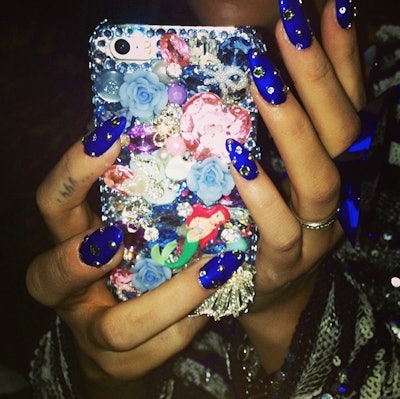 Lily's version of "Understated" nails.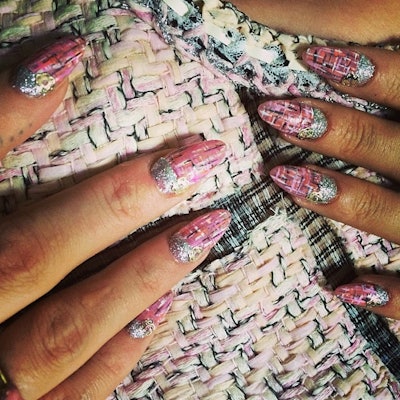 Matching preppy tips inspired by Chanel.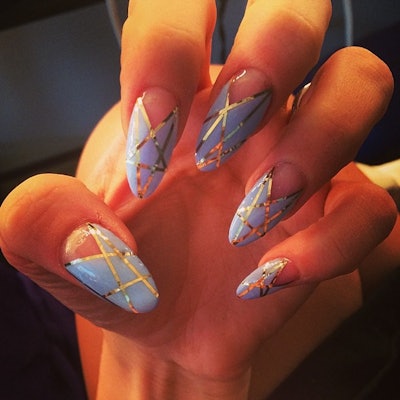 Striping tape goes wild! (Nails by Naomi Yasuda)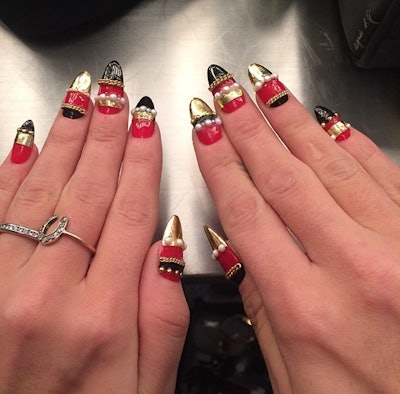 Blinged out in black, red, and gold. (Nails by Naomi Yasuda)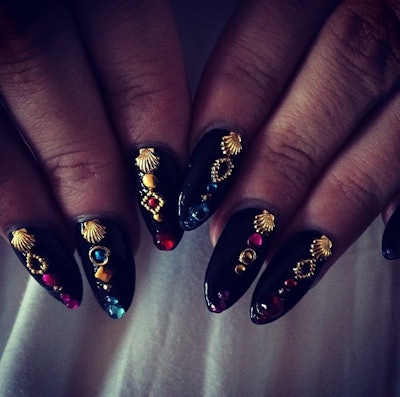 Dark nails feature unexpected seashells. (Nails by Michelle Humphrey)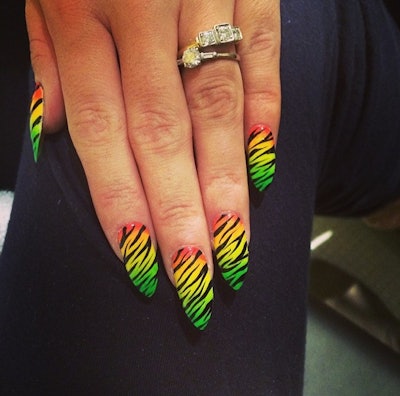 Roar! Michelle Humphrey did Lily's nails for the NME Awards.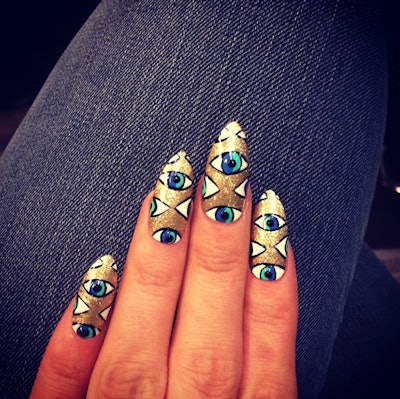 Lily's nails see your stares… (Nails by Michelle Humphrey)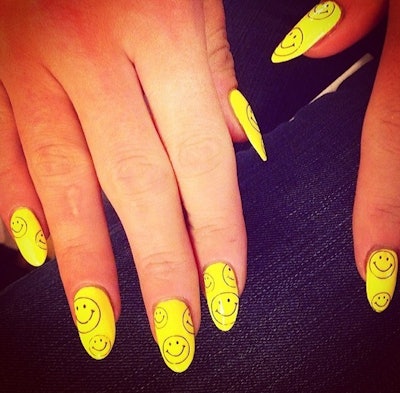 Be happy! (Nails by Michelle Humphrey)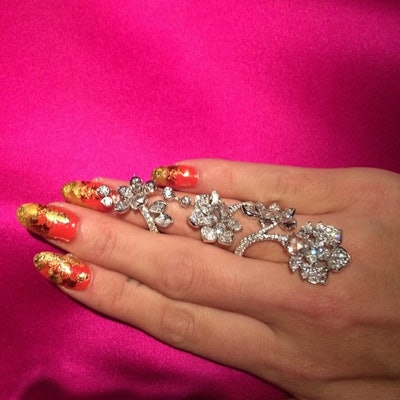 Lily sports David Morris Jewels and gold leaf tips!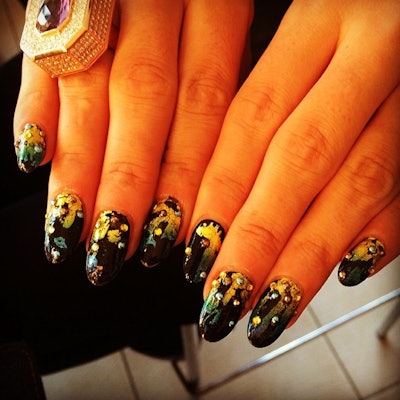 Ombre color, gold foil, and rhinestones. What more could anyone want? (Nails by Michelle Humphrey)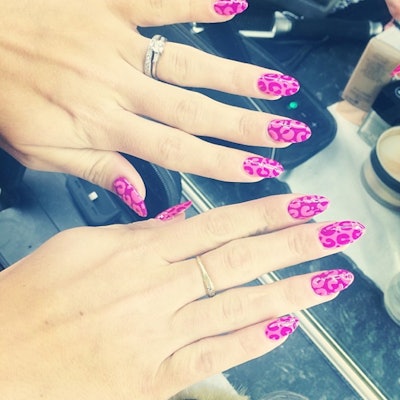 Lily mixes up her shades for a catty mani. (Nails by Michelle Humphrey)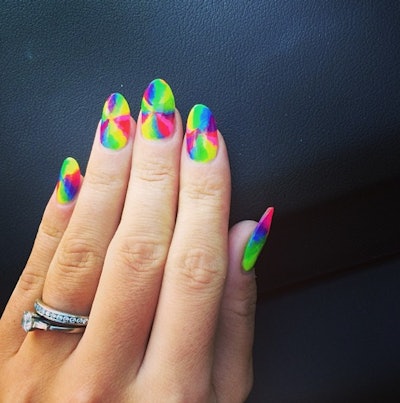 Allen gets colorful with this watercolor-esque design by her main manicurist, Michelle Humphrey.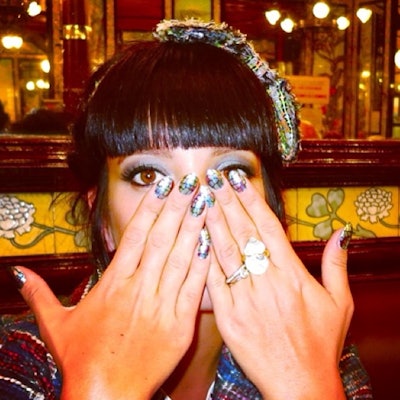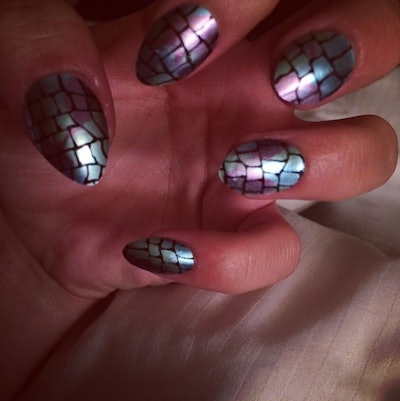 Naomi Yasuda gave Allen these metallic snakeskin nails.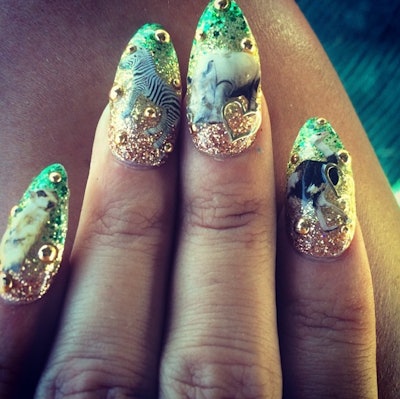 Safari nails Allen wore in South Africa while shooting a music video for "Air Balloon," also done by Yasuda.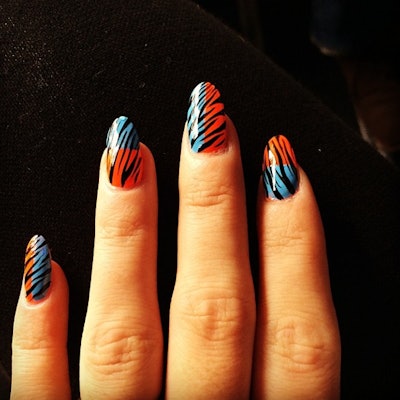 Bright two-toned tiger nails by Humphrey. Maybe it's Maybelline?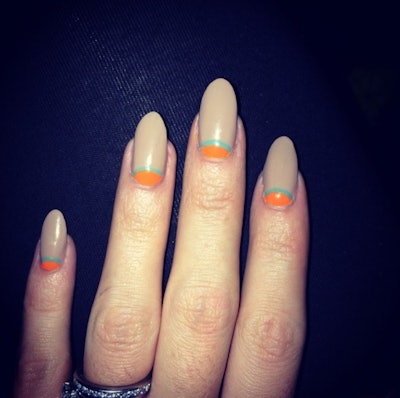 These summery striped moons look like they're straight off the catwalk at Fashion Week!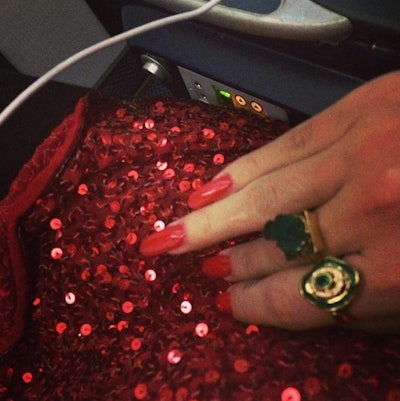 Nail rule #1: Match your nails to your sequins.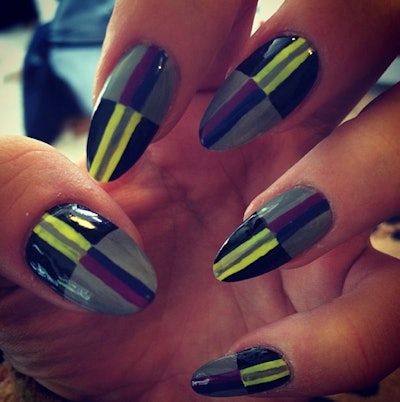 We love the color mix and match!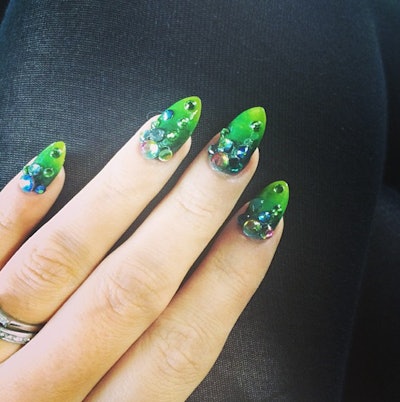 Witchy green ombre Halloween nails are a must.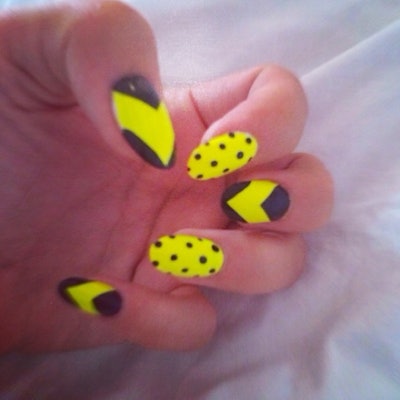 In summer, neon is necessary!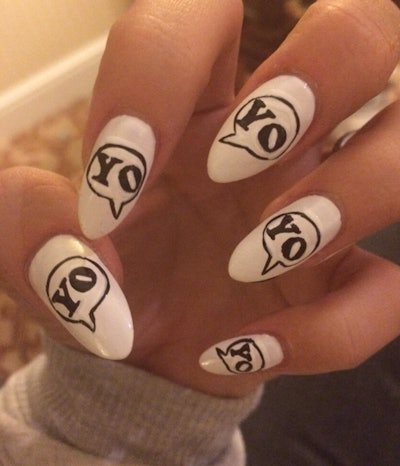 Her nail design speaks for itself.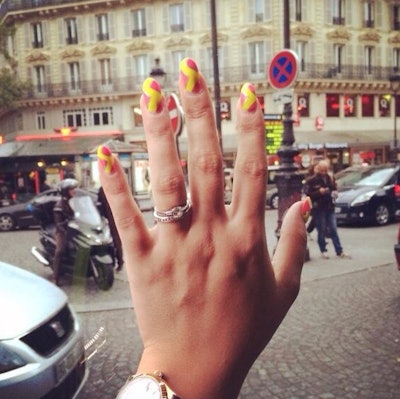 And looks fab with a British backdrop.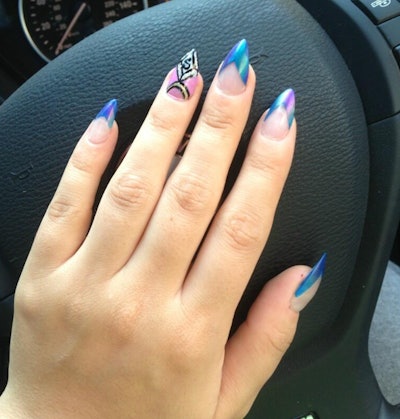 Skip the ring, a diamond accent nail is all you need. Mani by @sophynails.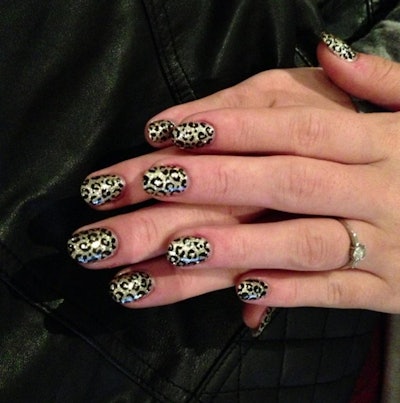 Wild leopard print!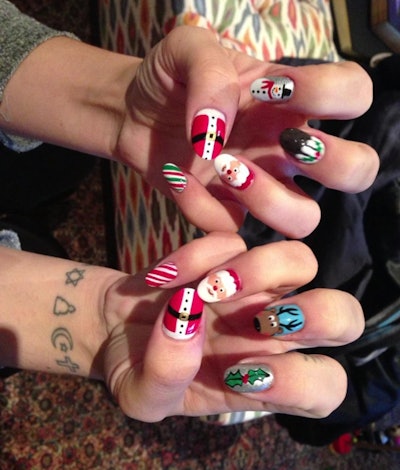 Maybelline manicurist Michelle Humphrey also gave holiday spirit to the singer's nails!
An easy favorite to replicate — neutrals and striping tape or a striping brush is all you need!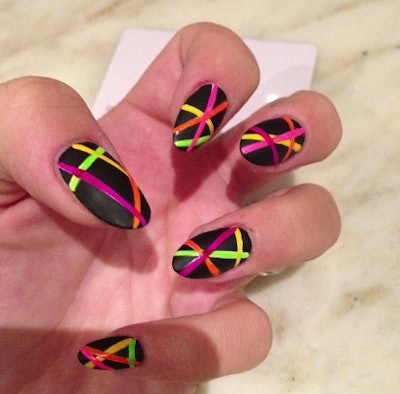 Black matte helps shiny neons really pop!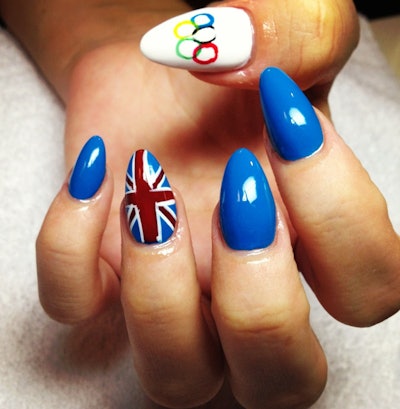 To commemorate the Olympic games in Allen's home country, she sported these sporty tips by @sophynails!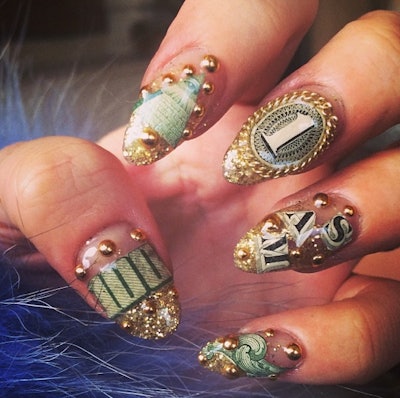 Along with this hundred-dollar design, Allen posted, "Nail game is over. I win." We're going to have to agree with that!