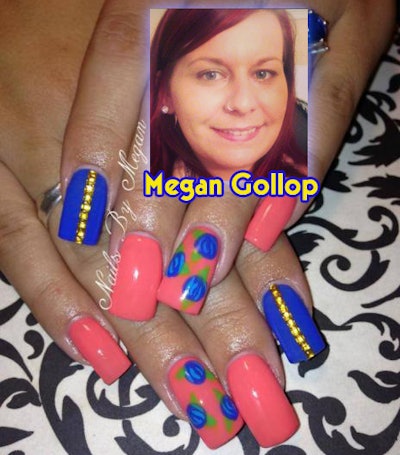 Welcome to NAILPRO's Nailed Down! where we "nail down" nail artists and technicians from our User Galleries and get to know them and their amazing work!
This week we visit Newfoundland Canada
Meet Megan Gollop:
Where do you work?
I work from my home based nail salon.
How would you describe yourself?
I am a mom and that is my number one motivation. I am a laid-back girl who loves to laugh and learn. Family is most important to me.
Tell us about how you got started in the nail industry.
I started getting my own nails done back in 2008 and I really enjoyed the process of it. The social aspect, going for a "Chat" and a "Coffee" while getting these beautiful nails done. It was in about late 2009, I was in a job that I hated and I decided I was going to do nails so I put "LCN Nails" on a little sticky note in my cubical. Eventually my fiancé was able to give me the money to take the LCN nail course. In May of 2010, and from the very first day that I got my starter kit, I started doing nails and haven't stopped since. I made it my career. After working in a small salon I decided it wasn't for me and started working at home. I decided to expand my knowledge and did some other gel nail courses over the years as well including entity and brisa.
What/Who inspires your work?
My daughter is my number one inspiration to be the best I can. But I am also Inspired by so many amazing artists: Like Nails By Talia, Nails Design by Sarah, Natasha Does Nails and so many more I could never mention them all. I try to get inspiration from a variety of places. It is amazing what will inspire you!
Are there any tool(s) you can't live without?
I can not live without my spot and swirl, my dust brush and definitely not without my e-file.
Do you have a favorite technique or style?
I love using loose glitter on gel nails and Stiletto/Almond nails are so beautiful.
What is your craziest/funniest nail story?
So many crazy things happen in the nail salon. I have gotten several nails and jewels in the eye and that's not pretty! But the amount of laughter that comes from my salon is amazing and constant. Sometimes we laugh so much I think I have put clients into a hot flash! Hahahaha. My daughter always says, "Mom why do you and your clients always laugh like 'HAHAHA.' You just laugh so loud."
What tip can you offer to other nail technicians?
A tip I can offer as a nail tech is: Never doubt yourself and truly give it your best. Don't be afraid to try something new. It can be a difficult industry, but with quality and confidence you can succeed.
Anything else you'd like to add?
Thank you so much for this opportunity. I love my family, friends and clients so much. Without them this would not be possible. Thank you!
You can find Rena Smith on the web:
In the NAILPRO User Gallery:
Instagram: @Nails709

Click here for more Nailed Down! interviews »
Would you like to be featured in NAILED DOWN? Post images of your nail art to our User Gallery. We'll be highlighting outstanding artists based on those submissions! (minimum six pictures to qualify for consideration) NAILPRO reserves the right to edit submissions for length, grammar and clarity.