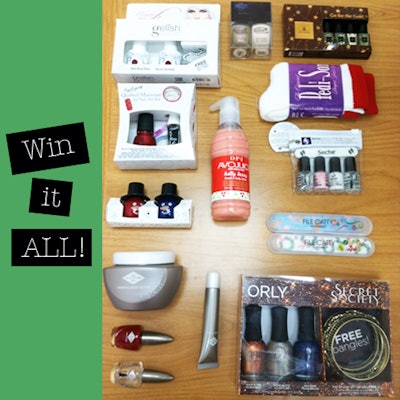 Win a holiday gift assortment!
Surprise yourself with an early gift! One lucky winner will receive an incredible assortment of holiday products: Bio Sculpture Gel Nail Polish, Bio Sculpture Gel Vitamin Dose, Bio Sculpture Gel Cuticle Cream, Bio Sculpture Gel Hand & Body Butter, OPI Avojuice Holly Berry Hand & Body Lotion, Seche French Manicure Travel Kit, Jessica Cosmetics Mini Go For The Gold set, Color Club Harlem Lights polish duo, Orly Secret Society Bangles gift set, Jessica Cosmetics Let It Snow polish duo, It's So Easy Quilted Manicure & Nail Art Kit, Gelish Winter Reds gift set, a pair of Pedi-Sox and two Flowery File Cattys!
 
HURRY! Contest ends Sunday, December 22th at midnight Pacific Time!
Due to mail regulations, the giveaway will be limited to entrants in the United States.