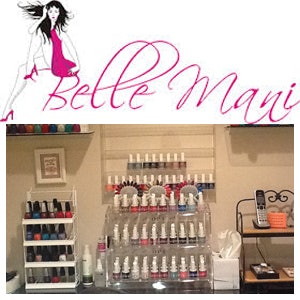 Welcome to our new feature "NAILPRO-file" where we highlight neighborhood nail salons and their owners from around the country and around the globe!
This week's salon is in Mundelein, Illinois.
Meet owner Carey Lucchesi of Belle Mani Nails!
Salon Name: Belle Mani Nails
Salon Open Since: 2002
Salon Address: 39 Greenview Avenue South, Mundelein, Illinois, 60060
Salon Phone: 847.212.8249
Salon Website: www.CareyLucchesi.com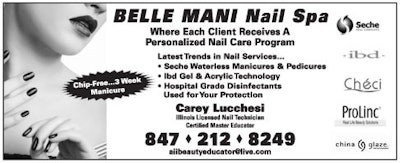 Tell us how you decided to open your own salon.
After a 20+ year business career with a Fortune 500 corporation, I decided to switch gears. After completing licensing, I mentored under Mary Metscaviz of Awesome Nails, Grayslake IL, but practiced my advancing skills (while building a client base) in various local salons. I always knew I needed independence and flexibility with my ever changing family demands, so when a table opened at Awesome Nails, I left the other salons, but not my clients.
Following in my mentors footsteps, I advanced in the industry by joining American International Industries of Los Angeles in 2004. This association has afforded me continued education in their vast brand offerings. So I travel, provide sales support and education for Ibd Gel and Just Gel services, Seche Waterless Manicures, GiGi and Clean+Easy Wax, Ardell/Andrea Lashes, China Glaze "Live in Color", at trade shows, distributor events and schools.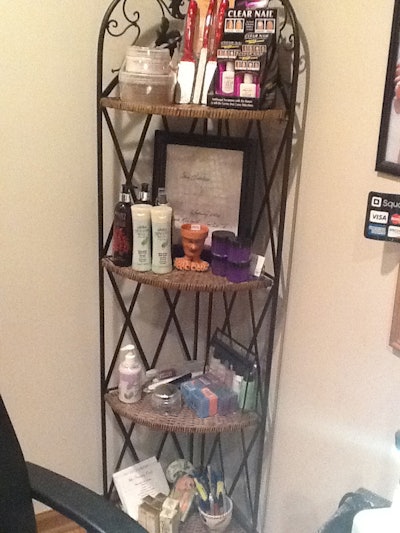 What sets you apart from other salons in your area?
Belle Mani (Beautiful Hands) began, and still is, a home based studio that serves both clients who've followed me since the beginning – and backs up my clients from Awesome Nails. You have to be referred, or invited, into my home studio (for obvious reasons) which has proved to be a dream come true. Total flexibility and independence. My broad product knowledge has earned a title of Go-To-Gal from clients word of mouth.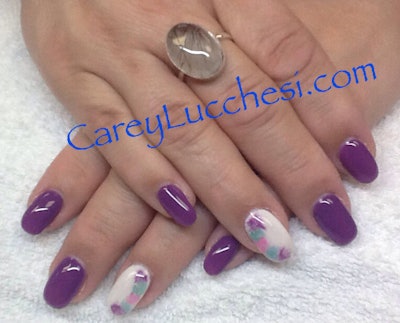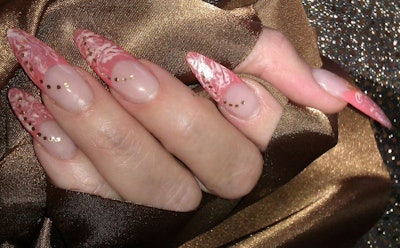 What is your most popular service?
My sculpted Ibd pink and white gel nails…slightly deep smile lines, custom pink to "pop" the white.  Second…designer stiletto's. Few client calls for these but they love them when I wear them. Third, natural nail with Ibd Just Gel, of course, customized with pigments, glitters, art and/or bling!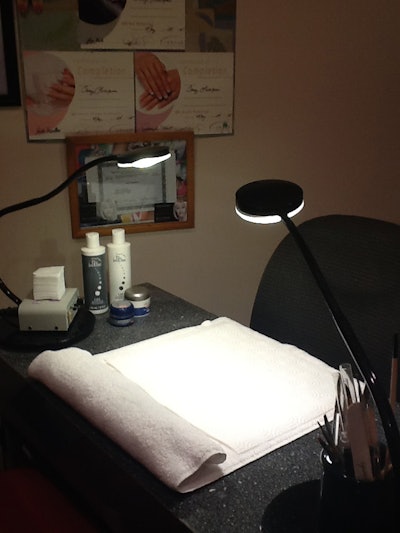 What products do you use in your salon and why did you choose them?
Ibd all the way, gel and acrylic. I've dabbled with other products, trained by industry leaders, and generally my clients ask me to go back to "my stuff." They like its clarity, the never ending color selections, and its reliability. The client is always right!
What's your best-selling product?
Anything available from Amerian International because they've a multitude of items I trust and believe. Ardell Lashes are my best sellers as I apply them for free. Body Drench QuickTan spray and cream tanning products. Oh, China Glaze and Seche nail care products are a staple.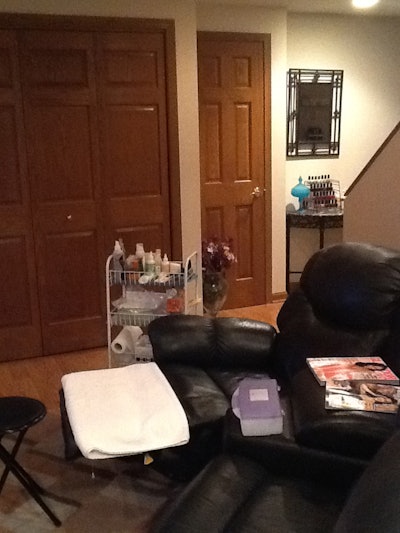 What's the best compliment you've received about your business?
Customer referrals, that says it all. I haven't had to do advertising in years, and if I do, it's more to help out a client project. Also, as you know, absence from this business is a death sentence. Six years ago I needed back surgery that kept me out for a month, but I did not loose a single client.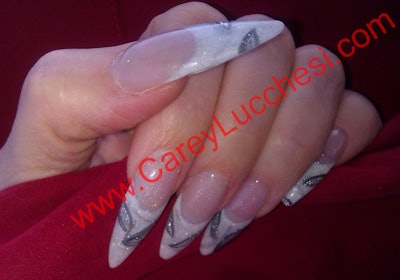 What is your craziest/funniest salon story?
Wow, there's so many. That should be a monthly sidebar article!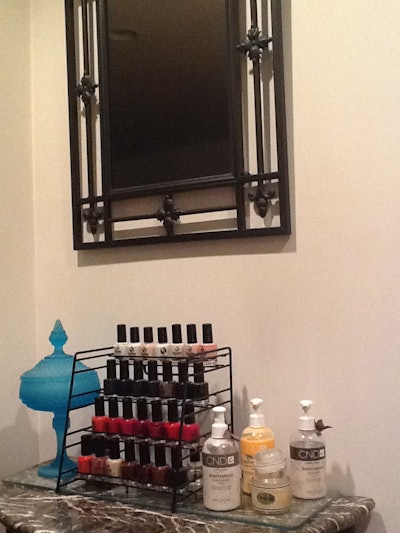 If there was one piece of advice that you could pass along to another salon owner, what would it be?
Value your renter or employee. Be a "Team." Sharing knowledge, supporting each other, taking accountability as a whole – removes the backbiting inherent to this industry.
Anything else you'd like to add?
Find your passion and you'll never work a day of your life – then give back when opportunity calls. You'll feel great.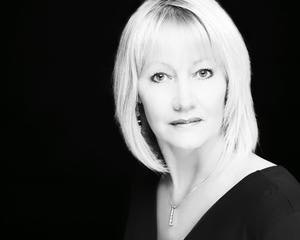 You can find Belle Mani Nails on the web:
Website: www.CareyLucchesi.com
Facebook: Belle Mani Nails
Twitter: @CareyLucchesi
Linked In: Carey Lucchesi
StyleSeat: Carey Lucchesi
Yelp: Belle Mani
Would you like your salon featured in NAILPRO-file? Contact Chrisi Talyn Saje in the NAILPRO web department: here »
NAILPRO reserves the right to edit submissions for length, grammar and clarity.