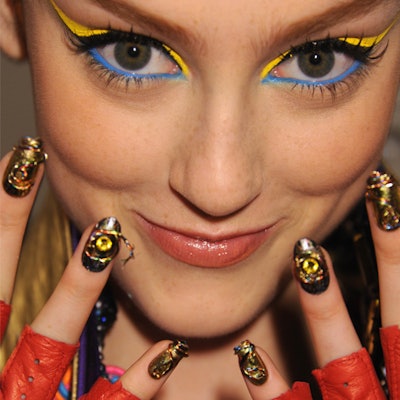 This is can't-miss nail art. CND worked exclusively with The Blonds at NYFW to create some of the most stunning nail art we've ever seen, like shiny double-decker tips, bionic gear manis with moving parts, and more rhinestones than a whole salon could use in a year!
We got the chance to talk to Roxanne Valinoti, CND North America Education Manager, to find out more about how the incredible show was pulled off, and what it took to make one of the most detail-oriented runways a success!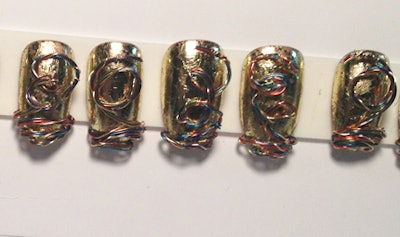 Nailpro (NP): What was your specific job when creating the nails for the show? Did you create something specific? If so, how did you come up with that?
Roxanne Valinoti (RV): My role at NYFW is very diverse! I act as a CND spokesperson, and Kristina Estabrooks and I both manage the team on site in the Design Lab to ensure that production is being executed at the highest level. The creation of nails is not a solo project but rather a collaboration from the entire team!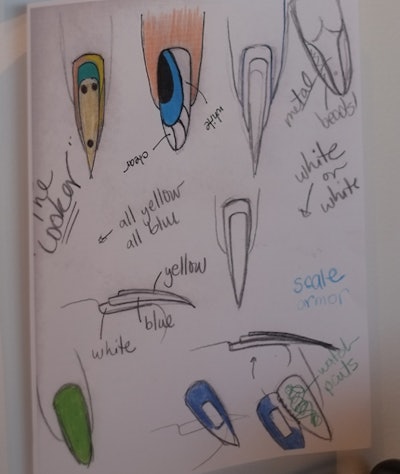 Jan, Kristina and I meet with David and Phillipe of The Blonds several weeks before the show and start the creative process. They share their inspiration and vision for the clothing collection with us while we concept ideas that will help bring their story to life. Then the CND A-team goes to work, creating templates that will be tweaked until perfection! Each team member brings individual and unique ideas to the table to enrich the original design concept.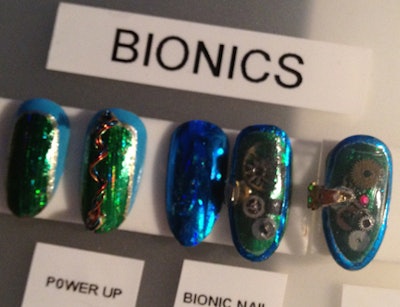 ?NP: What was the biggest challenge in creating the nails for The Blonds show this year?
RV: This season, we challenged ourselves to think outside of the box and elevated our nails to true "works of art."  Each nail was hand-crafted using all CND products, including components that were created with Brisa Lite Gel, Liquid and Powder and CND Shellac!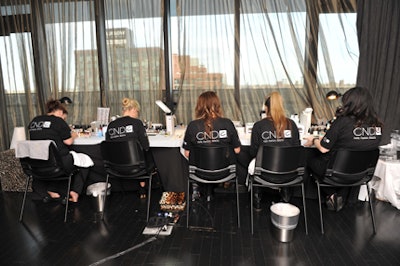 ??NP: How do you keep yourself going after hours upon hours of creating the same nails over and over again? ?
RV: Teamwork! Creating the nails on site with our team brings energy, excitement and memories! We truly love one another and use the time to catch up, laugh and learn from each other while working non-stop until the wee hours of the morning. It is truly a labor of love!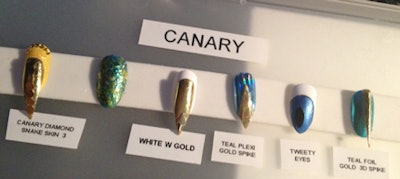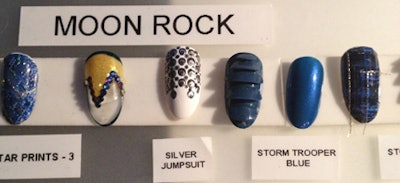 ?NP: What is the best part about being involved with the nails for The Blonds?
RV: The Blonds are the most creative, artistic designers we work with and their love for beauty, art and precision makes us a perfect partner. They know that CND can take their vision to another level and they truly appreciate that the nails ARE the accessory! ??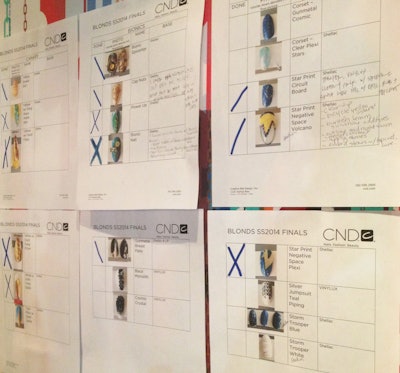 NP: What's the worst? (Is there a worst?)
?RV: The biggest challenge we face is to out-do ourselves each season and to push our creative boundaries! And meeting the deadline!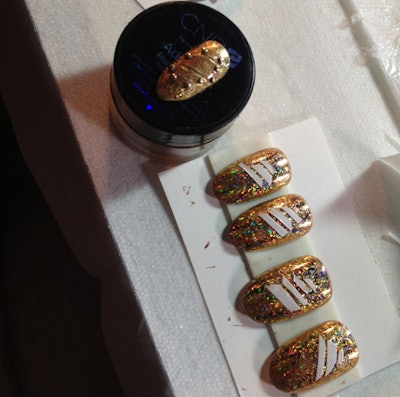 ?NP: What is the craziest thing you've seen backstage?
RV: In my 12 years working backstage, I have witnessed some crazy things, way too many to list! Super model meltdowns, intoxicated models, intoxicated designers and extremely interesting personalities, but at the end of the day we focus on the task at hand and stay clear of any drama!??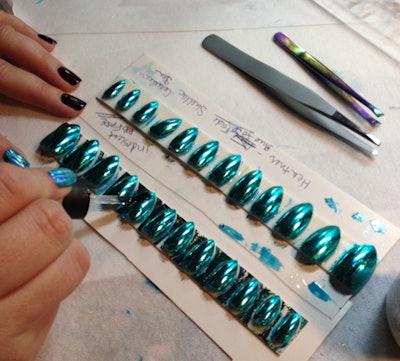 NP: What would you tell techs who want to get involved in backstage work?
RV: CND pioneered backstage beauty for nails 17 years ago, convincing designers that nails are an essential component to beauty and complete a look.  Dedication and perseverance paid off, as many designers today wouldn't dream of having a show without nails, so it an exciting time to be a Nail Pro. Opportunities that were rare years ago are available and achievable. You must be flexible, and able to do precise work quickly under lots of pressure. Many times, decisions aren't made until the last minute and working conditions are never ideal, but the fast pace makes it exciting and very rewarding!
See more about the event here.
[Images: CND]