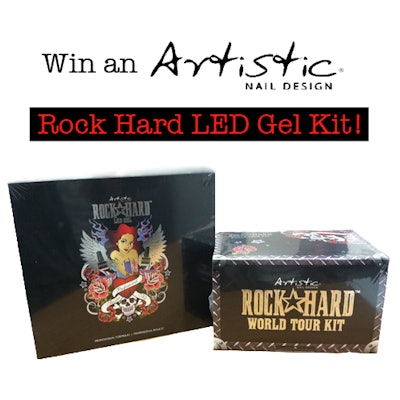 Two winners will receive an Artistic Nail Design Rock Hard LED gel kit!
First place will score the Rock Hard World Tour Kit, which includes the primer, clear building gel, pink gel, white gel, clear gel, monomer liquid, pink nail powder, white nail powder, clear nail powder, surface cleaner, nail forms, 3 files, 3 buffers, gel brush, acrylic brush, AND a registration ticket that gives you free entry into the Rock Hard World Tour Educational Training!
Second place will get the Professional Starter Kit which contains pink building gel, white building gel, white brush-on gel, clear brush-on gel, bright pink brush-on gel, natural pink brush-on gel and primer.
HURRY! Contest ends Sunday, December 29th at midnight Pacific Time! Due to mail regulations, the giveaway will be limited to entrants in the United States. See official rules prior to entering.