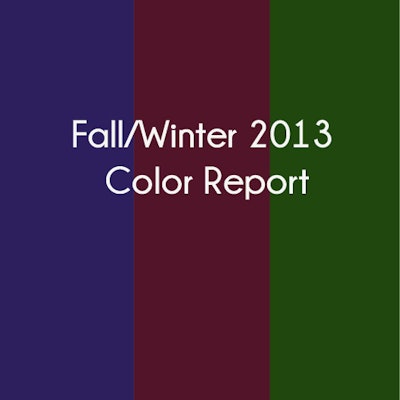 You've undoubtedly already seen the switch in nail colors from pastels and neons to winter-worthy hues. While dark colors always reign in the cool months, there are three on-trend shades you must keep on hand (literally!) for clients this season.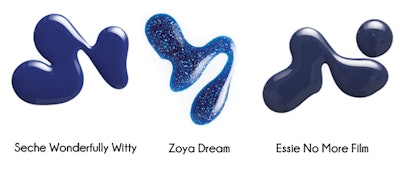 Navy Blue was all over the catwalk at Fashion Week, and nearly half the models were wearing it on their nails (which is unusual, as nude tips traditionally dominate). Here are three navy-like polishes to try!
Seche Wonderfully Witty is a dark blueberry hue. The smooth crème finish leaves polish looking just like gel.
Zoya Dream resembles a dark, starry night in the shade, but is illuminated by light (as shown), for a pretty dynamic manicure.
Essie No More Film heads in the direction of denim. This muted blue is a perfect professional color, matching well with blazers and blouses.
See the next color.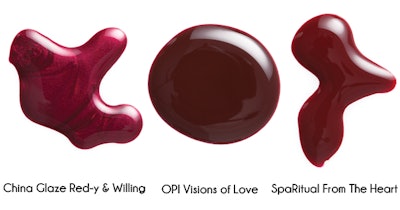 Oxblood was predicted to be one of this season's hottest hues by manicurist (and reality TV star) Naja Rickette.
A dazzling wine, China Glaze Red-y & Willing is the ideal color for those who prefer a shimmer tint to their nails.
OPI Visions of Love is straight from the newest OPI collaboration with Mariah Carey. This dark burgundy is hot and makes for a bold, sexy mani-pedi.
If your client's go to colors are bright, a perfect winter compromise is SpaRitual From The Heart, a burgundy with a bright red base.
See the next color.

Dark, illustrious greens are necessary for the season as well – think of evergreens. Though emerald may be the color of the year, also look out for hunter green, which looks lovely on warm or olive skin tones.
A must-have leafy hunter green is Cuccio Colour Glasglow Nights. The smooth formula applies well with even one coat, and shows off its yellow tones once painted.
For festive holiday manicures, Zoya Logan is it. This polish is chalk full of miniature green and yellow sparkle that blends together for a rich green shimmer with hints of gold.
For cooler skin tones, a blue-based green like Seche Versatile is best. This emerald hue reflects the Pantone color of 2013, and gets us excited to see what next year's shade will be!