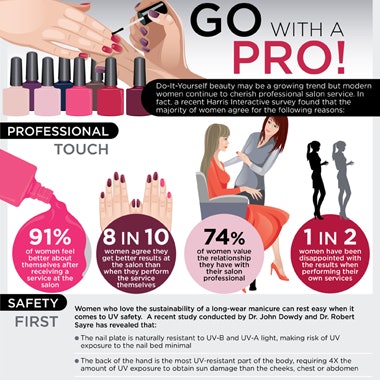 CND, the innovator of CND Shellac™, reaffirms its commitment to serving the Nail Professional and elevating the consumer experience by empowering women to choose a professional nail service. Through ongoing research and education, CND continues to recognize the value of the salon experience and maintains the integrity and safety of Superior CND Shellac Services.
 
Despite an increased emphasis on DIY (Do-It-Yourself) beauty in the consumer landscape, many women prefer to leave the work to the Professionals. According to a recent consumer survey conducted by Harris Interactive:
 
· 91% of women feel better about themselves after visiting the salon
· Eight in ten women agree they get better results at the salon than when they perform their own service
· 74% of women value the relationship they have with their salon professional
· More than half of women say they have been disappointed with do-it-yourself results
A visit to the salon not only ensures quality service, but also offers an opportunity for community and comfort.
 
When it comes to the safety of professional salon service, CND is committed to educating Nail Professionals and consumers alike. Dr. John Dowdy and Dr. Robert Sayre, both world-renowned experts in measuring and understanding the effects of UV on skin, recently reported that it would require more than 2.5 hours of direct UV exposure per day to cause damage to the skin. This is much longer than the time it takes to complete a UV-cured nail service! In addition, the nail plate is naturally resistant to UV-B and UV-A light, and the back of the hand requires four times the amount of UV exposure than the cheeks, chest or abdomen in order to cause sun damage. This makes it nearly impossible to suffer from unsafe exposure during a UV nail service, like CND Shellac.
 
In order to ensure that consumers consistently receive Superior CND Shellac Services, CND recently launched the CND Shellac Pro Certification program. Through this initiative, the company offers Nail Professionals an opportunity to learn more about the CND Shellac System, expert application techniques and the ability to become certified as an expert on CND Shellac services.  Working with CND Shellac Certified Pros enables salons across the nation to be best-in-class and guarantees consumers the service they deserve.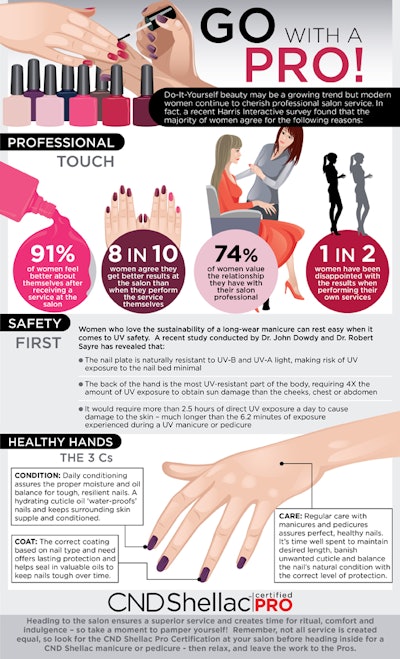 To learn more, visit cnd.com.
[Image courtesy of CND]