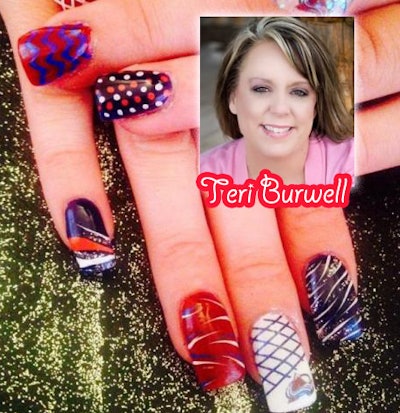 Welcome to NAILPRO's Nailed Down! where we "nail down" nail artists and technicians from our User Galleries and get to know them and their amazing work!
This week we visit Riverton, Wyoming.
Meet Teri Burwell:
Where do you work?
I am the owner of Nailed It! Nail Salon
How would you describe yourself?
I would say that I am a fun, outgoing, creative, loving person who is always looking for an adventure.
Tell us about how you got started in the nail industry.
When my daughter was in kindergarten, I decided that I needed to find a new career path that allowed me to spend the time with her and always be available whenever she needed me. Becoming a nail tech had always been something that I had wanted to do, so I went for it! 10 1/2 years later I still love what I do!!!
What/Who inspires your work?
My clients do. I want to give them nails that they love, and when they refer me to others, that inspires me to be even more fun and creative! I love to look through Pinterest and other websites to find ideas. We have so many creative people in our field, it's always a challenge to try new and different ideas for art!
Are there any tool(s) you can't live without?
Well it sounds a little weird, but I can't live without my Antique Glass Flower Frog. It is perfect for my SO Gel Nail product that comes in bottles. The tip fits perfectly in the glass holes and that way my gel is always ready to use! I also use a dental pic for my gel application and art techniques. It's a perfect tool for whatever I need to accomplish with gels!
Do you have a favorite technique or style?
I don't really think that I have a favorite technique. I just love to be creative and do wild and fun nails! And I have the best clients because they just let me do whatever I want 🙂
What is the funniest/craziest nail story?
That's easy. I have a client who is now 87 and I've been doing her nails since I started, so she would have been 76 at the time. After I finished with her first appointment and touched up her painted nails THREE times, I walked her to her car (where her husband was waiting. He's 88 now) I opened the door, and buckled her seatbelt for her so she couldn't mess up her nails again, lol! At that time I started calling her princess, but after all this time I came to realize she was not a princess but the Queen!! lol
What tip can you offer to other nail technicians?
Always be clean. Never have your clients come to a disaster of a nail table. Always be professional. Remember, they are paying you, so devote all your time to them (keep your cellphone put away) and remember that if your do a good job and you're friendly, you are gonna not only keep them as a client, but they are also going to become a great friend!!!
Anything else you'd like to add?
I had a very dear client who passed away at the young age of 96. She was a beautiful lady. She once gave me a great piece of advice. She said, "Dear, always take care of your hands and your face because those are the two things on your body you'll never be able to hide." How true is that?
You can find Teri Burwell on the web:
In the NAILPRO User Gallery: Classic Rock Nails and Christmas Nails
Pinterest: Teri Burwell
Click here for more Nailed Down! interviews »
Would you like to be featured in NAILED DOWN? Post images of your nail art to our User Gallery. We'll be highlighting outstanding artists based on those submissions! (minimum six pictures to qualify for consideration) NAILPRO reserves the right to edit submissions for length, grammar and clarity.