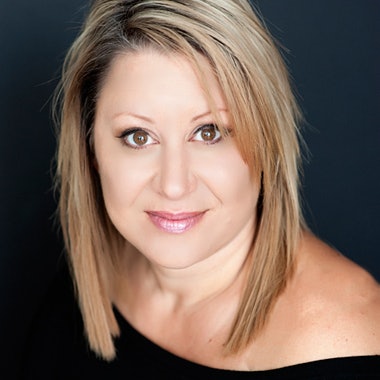 Viv Simmonds is a household name in the nail industry. With over 20 years of experience and several awards, including the Austrian "Champion of Champions" and "Educator of the Year" titles. She's also part of a duo team with Catherine Wong in ViVCat Design; together they deliver classes, workshops, and seminars on all things nails. Learn more about this international nail superstar by clicking through!
NAILPRO: What was your first job ever?
McDonalds! My big brother was a manager and he secured a job for me at his store.
NP: What was your first job in the industry?
I set up a desk at a beauty salon, which was tucked away down the end of a dark corridor inside an arcade. Needless to say, I spent many hours doing my own nails.
NP: Who would you like to work with?
Other than [superhero] Oliver Queen? LOL! No one else really. I am lucky to work with one of the most talented nail artists I have ever known and someone who has also become one of my dearest friends–Catherine Wong. I have my team of educators that are like my family in Australia and all the other nail artists I have admired and respected from all over the world I call friends, so I cannot ask for more than that.
NP: What inspires you?
People, my surroundings and really everything inspire me! In my career, I am inspired by challenge. I thrive on pushing myself to achieve certain goals or finding something new that I can tackle for a challenge.
NP: What was your childhood ambition?
Becoming a fashion designer. I loved putting things together to complete an image from head to toe.
NP: What is your proudest accomplishment?
Overall, my nearly 15-year-old son who is everything I could have ever hoped for as a mother. On a professional level my team. Seeing them develop and winning seven trophies at our most recent Global Cup competition in Malaysia was one of the proudest moments of my life. Their joy and sense of accomplishment was phenomenal and I was thrilled to be a part of their success.
NP: What was your most embarrassing moment?
Oh geez!  Lol!  Which one?  Maybe Cat should answer this one (I can see her laughing already).  One of the funniest was my first experience running a nail competition. It was the very start of the competition day and I was standing in front of everyone reading the rules out loud on a microphone and asked the competitors to 'please place your models under your table so that the floor judges do not trip on anything while walking past.'  I was supposed to ask them to place their 'bags' under the table. I was so engrossed with what I was doing that I did not notice my mishap until I heard all the laughing and looked up to see what was going on.  I was then informed of my blunder and had to read the remaining rules while struggling to keep a straight face.
NP: What is your favorite type of music? What is your favorite song?
Oh wow!  Anything and everything old!  I grew up with three older brothers, so Meatloaf was my absolute favorite throughout most of my life. Pink Floyd, etc. are right up there also. The 'doof, doof' stuff these days is repetitive with the main focus being on the booty!  Lol! There are too many favorite songs to mention that hold special meaning to times or events in my life. Aerosmith's "I Don't Want to Miss a Thing" holds a very special spot in my heart as this song was the hit when my son was born and I couldn't take my eyes off him.
NP: What is your favorite sport?
Fishing on a boat! Did I mention I grew up with three older brothers, male cousins, and my uncle and dad–who were all very devoted fishermen? I find a day out fishing on the boat with the water and the serenity of the sea to still be one of my favorite things to do.
NP: Describe your perfect day.
That's a given! Waking up in my caravan at a gorgeous holiday spot (some beachside location) and getting up, turning on my laptop and checking my emails and Facebook pages while enjoying my coffee. Heading outside to sit at someone's campsite and chat with our group of friends and family (last trip there was 64 of us including kids). Going out for the day to investigate new beaches and sights, coming back to the van and cooking a delicious meal on the Weber (BBQ), then sitting around again enjoying a homemade Bailey's on the rocks while talking and having a laugh. Finally, watching a movie in the van before going to bed so that I can wake up and do it all over again the next day. 
NP: Are you a morning or night person?
Mainly morning I would say. I love waking up to face the challenges of the day. I love what I do, so getting up is easy for me.
NP: What is your most treasured possession?
A little set of pink pigs that have negative and positive tiny magnets in their butts. LOL! They belonged to my grandmother who I adored. My brothers and I would play with them every time we visited. You could make them spin around and move by pointing the nose of one pig towards the rear end of the other pig. It sounds a bit odd, but they were very entertaining at a young age! I have them now and they remind me of my grandmother, therefore, they are cherished by me.
NP: What was your most recent impulse buy?
Samsung Galaxy 4 phone!  I was an Apple girl through and through, but I crossed over to the other side by changing my phone from an iPhone to a Samsung!
NP: Describe the best set of nails you've ever seen.
Really!? That is virtually impossible! Lol!  Of the thousands of sets I have seen, I wouldn't even know where to start!