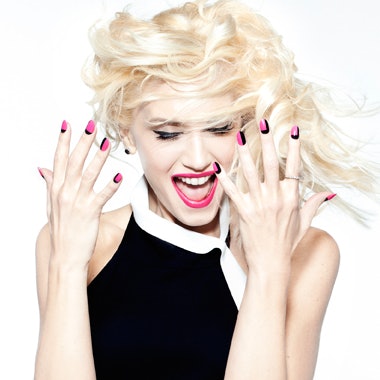 Gwen Stefani, known around the world for her bold fashion statements and signature style, has paired up with OPI for their latest celebrity-inspired collection. Inspired by the 2013 Metropolitan Museum Costume Institute Gala's theme "Punk: Chaos to Couture," OPI Executive VP and Artistic Director Suzi Weiss-Fischmann decided to create a collection of lacquer celebrating the role of music as a major influence in fashion.
"With her expertise as a singer, songwriter and designer, who better to collaborate with than Gwen Stefani?" asks Weiss-Fischmann. "Known for her trademark red lips, bold eye makeup and nail art, Gwen uses beauty to accessorize her style."
Set to debut in January 2014, the collection will feature seven new limited edition lacquers in breakthrough finishes. Highlights from the collection include a bold red lacquer that pays homage to Gwen's signature lip color, a new semi-matte satin finish in shades of gold and black, and a mirrored chrome paired with a special base coat.
Gwen Stefani by OPI will the following seven limited edition nail lacquers: Hey Baby, I Sing in Color, Love.Angel.Music.Baby., 4 in the Morning, In True Stefani Fashion, Push and Shove* and Over & Over A-Gwen**.
Gwen's signature red OPI hue – Over & Over A-Gwen – will be available in a boxed set, which includes Swarovski black crystals and silver, gold and pewter studs in bar, square, diamond and circle shapes for creating unique nail designs, as well as nail glue for easy application.
Love.Angel.Music.Baby. and 4 in the Morning feature a new, semi-matte satin finish designed to be worn without a top coat. Push and Shove, a bold chrome hue, is also worn without top coat but requires a special complimentary base coat – Lay Down that Base. One thin coat of Lay Down that Base topped with two thin coats of Push and Shove yields an intense, mirrored finish. The collection is rounded out with two glossy crème lacquers and one sparkly glitter shade: Hey Baby, I Sing in Color, and In True Stefani Fashion.
*Must be worn with Lay Down that Base, which is complimentary when purchasing Push and Shove
**Sold only in a boxed set including Swarovski elements
[Photo courtesy of OPI]