EGO, based in Oakland Park, Fl.,  is not just a nail salon, it is also a women's boutique. They carry a selection of shoes, clothing and handmade accessories. It's "Every Girls' Obsession" (EGO) all under one roof! As you walk into EGO, an antique inspired boutique with carpeted floors, a big antique style mirror and a seating area greet you. French doors lead into the salon where the décor changes to a more modern feel. The salon has wood floors with an ottoman on a huge black shag rug, drapes and mirrors, pedicure stations and a waxing station. The nail stations have glass tabletops and are kept very organized.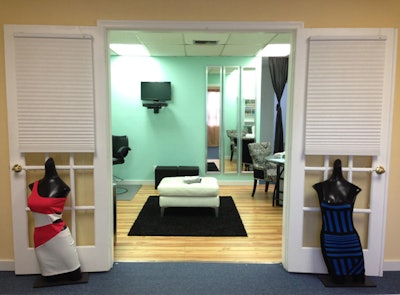 In-demand Service
EGO's most popular service is the "Junknail" (a bejeweled gel nail filled with Swarovski crystals). After the gel is laid, filed and sealed, the nails are painted with the client's choice of color and then the client will choose which nail she wants to "junk." A layer of top coat is applied over the nail and crystals (sometimes studs are placed on the nail until the whole nail is covered). Glue is applied and after it has dried, a thin layer of UV gel top coat is used to seal the crystals into place. A regular top coat will go on the rest of the nails. A Junknail will last two weeks without one stone falling off.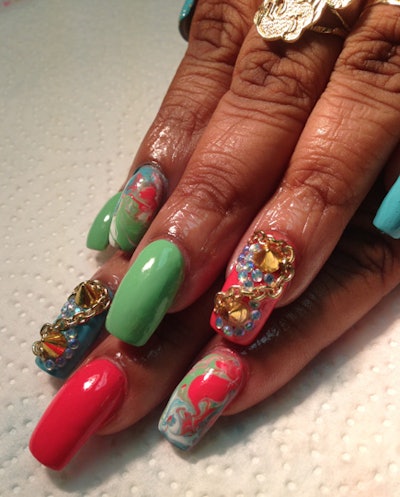 The Goods
EGO's products are chosen by understanding which ones clients trust and by knowing which products will get the job done. The salon uses OPI for acrylics, Le Chat gel powder for gel, ibd for gel polish, China Glaze and OPI for nail polishes, and a mango therapeutic lotion for massages during a pedicure.
Inspiration
"My inspiration comes from my clients. They make it their job to challenge me, and the smile on their face when their nails are done is priceless."
Social Media
EGO uses Instagram to promote the salon by posting pictures of nails that we have done and any specials we have for the month. We also promote our happy hours on Instagram. The results are great due to the fact that most of our new clients say they came because of a picture they liked on our Instagram page.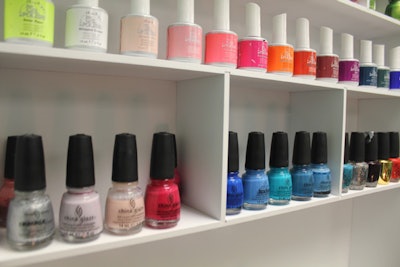 Praise
"The best compliments I receive about EGO are when I hear how much my clients love the customer service and the attention they received. Our clients love that they can talk to our nail techs about their needs and get exactly what they ask for."
Tips
"Cater to your clients; talk to them and get to know them so that when they sit down at your station, you'll know what they're interested in. Listening and introducing new ideas and techniques to your clients also helps satisfy them–and a satisfied client is a returning client."
 
Owners: Sherwin and Jerry Hora
Year Opened: February 2013
Address: 3843 N. Andrews Ave., Oakland Park, FL 33334
Phone Number: 954.882.3324
Hours of Operation: Tue. – Sat., 11 a.m. to 7 p.m.; Sun., by appointment only.
Facebook: facebook.com/EGOnailsboutique