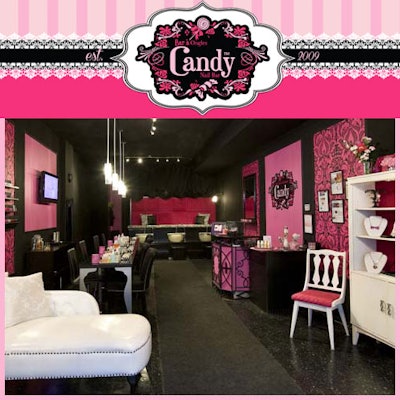 Welcome to our new feature "NAILPRO-file" where we highlight neighborhood nail salons and their owners from around the country and around the globe! !
Our first salon profile takes us to Montreal, Canada.
Meet owner Tamara Di Lullo of Candy Nail Bar!:
Salon Name: Candy Nail Bar
Salon Address: 6218 St-Hubert , Montreal, Quebec, Canada
Salon Phone: 514.276.7835
Salon Website: www.candynailbar.com
What sets you apart from other salons in your area?
There's nothing zen or bamboo about Candy. It's all about girly excess. Our services are equally over-the top! We're well known for our nail art and 3D Japanese style nails.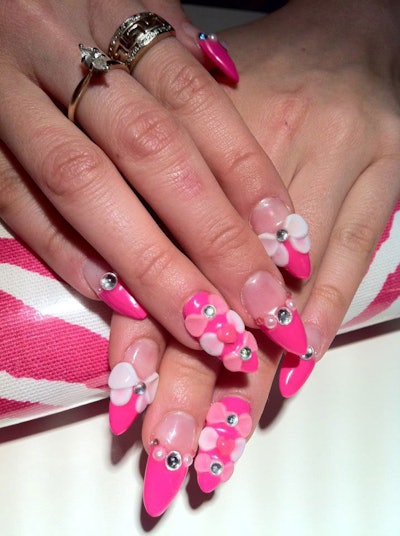 What is your most popular service? Describe it in detail.
The Harajuku which is a 3 hour nail art buffet. The service includes a full set and your choice of nail art, 3D/2D paintings, bling, etc. Another equally popular service is the Candy Deluxe Pedicure. It's in our pink VIP room. The bassins vibrate and heat up, and you get a full pedi with sugar scrub and massage. You can choose from one our 4 custom created Nail Candy scents in our product line!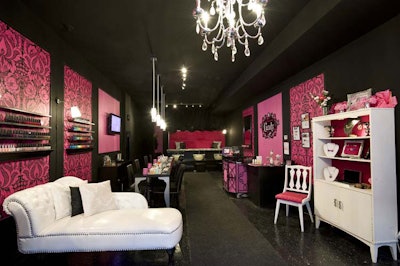 What products do you use in your salon and why did you choose them?
We use OPI, Essie, and China Glaze nail polishes. We use Artistic Colour gloss and hard gel for all of our gel services. We also use some Luxio gel colors as well. We work hard to find formulas and ways of mixing products to get super long-lasting results specific to our clients' needs. We love Artistic Colour gloss gels because the colors are AMAZING!!  Plus, we use LED lamps for all of our services. Artistic Colour is one of the only brands doing hard LED gel.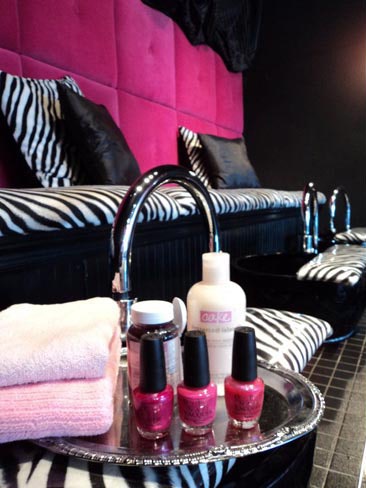 Do you offer retail? If so, what's your best-selling product?
Our line of sugar scrubs and creams called, "Nail Candy." They're made here locally and smell awesome!
What's the best compliment you've received about your business?
So many, honestly! I've won awards for my business and a nice grant from my city for Best Young Entrepeneur in 2010, so that makes me feel super proud of my business skills! 
I've been asked to collaborate on many nail projects which also makes me feel so happy because I get to use my creativity every day! I went to Las Vegas WWD Magic Show and did nails for the fashion brand Iron Fist Clothing after they saw my Halloween nails. That was super fun. I've done nails for street artist INSA when he came to Montreal to film a short art film and exhibit.  I was thrilled I got to meet him.  I'm such a big fan. He told me my nails were awesome and when I entered the gallery, there was a big still from the video with my nails in the entry way. I was sooooooooo estatic. Still am!
What is your craziest/funniest salon story?
Lots of craziness! 'Cuz we're all a little crazy to be artists! We have 2 tattooed tough-looking gentlemen who work with our team, so the reactions of customers to them are quite funny!
One time there was a shoot for a TV show (we do lots of shoots here in Quebec) called "Occupation Double." It's kind of like "Big Brother" but in French. Well, on the pedi bench there were fans of the show being filmed talking about their reaction to the winner. One of them was a being little catty and guess who was in the second room getting her nails done?  Yeah, the winner!  So she walked in told the fan off. It was totally unplanned (I checked) and so funny! Like, what are the chances?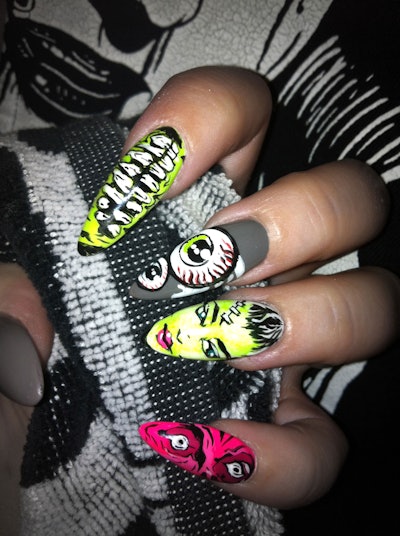 If there was one piece of advice that you could pass along to another salon owner, what would it be?
Be unique! If you do the same thing as everyone else, there's really no point to open your own business! The people that have blatantly copied my business model, (decor and even my logo!) always seem to end up failing. You need to have your own ideas. People are more and more valuing creative businesses.
You can find Candy Nail Bar on the web:
Website: www.candynailbar.com
Facebook: Candy Nail Bar
Twitter: @CandyNailBar
Instagram: Candynailbar
Get to know owner Tamara Di Lullo in our "Nailed Down!" interview: here »
Would you like your salon featured in NAILPRO-file? Contact Chrisi Talyn Saje in the NAILPRO web department: here »
NAILPRO reserves the right to edit submissions for length, grammar and clarity.