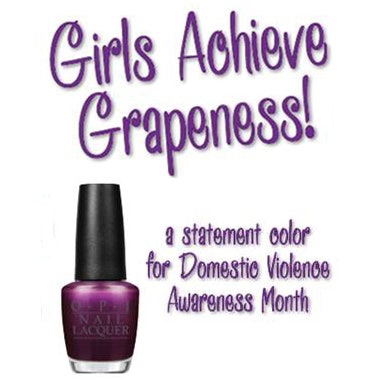 OPI is releasing a violet metallic lacquer for a fantastic cause: Girls Achieve Grapeness. Girls Achieve Grapeness is a female empowerment organization that seeks to teach young women, especially those on college campuses, how to develop healthy relationships, as well as recognize and avoid dating abuse.
As October is Domestic Violence Awareness Month, OPI donated an incredible 10,000 bottles of the statement color, Girls Achieve Grapeness, to Sigma Delta Tau sorority chapters across the country to be distributed and sold as a fundraiser for programs that support the girls.
The power is in numbers. "Thousands of women and girls across the country will be wearing an OPI color that stands for the greatness that girls can achieve when they are given the tools for self-sufficiency and self-esteem," said Suzi Weiss-Fischmann, executive vice-president and artistic director of OPI Products, Inc. And if local connections between women aren't enough, the hashtag #grapeness is being used to share and tweet painted purple tips along with a brief notes on goals and moments of strength that made individual girls feel great!
For more information on the program, visit girlsachievegrapeness.org and facebook.com/grapeness.
[Images: OPI]