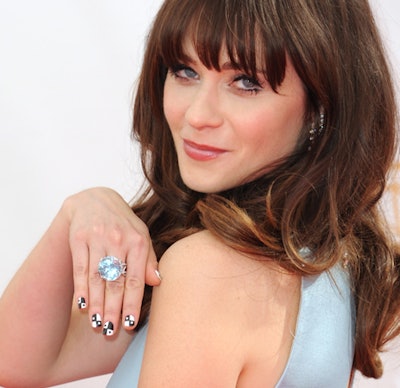 We're so happy for Breaking Bad, Modern Family, and Homeland for all taking home multiple Emmys this year, but our real focus was on the hands of the lovely ladies crossing the red carpet. This year, we saw many short, practical nails and though many stars had neutral polishes, there was a surprising amount of nail art we haven't seen in the past. A few of our favorites were the tips of Sarah Hyland, Zooey Deschanel (of course) and Connie Britton! See the six colorful manicures that captured our attention.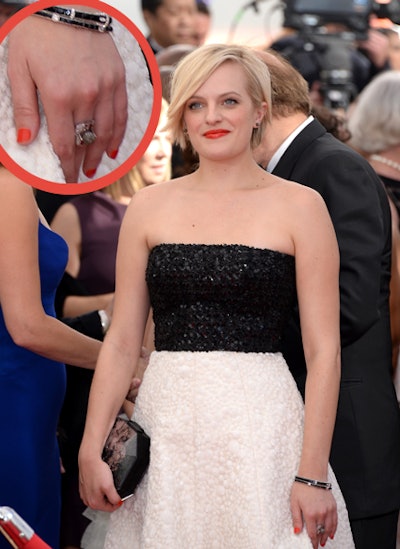 Mad Men's Elisabeth Moss accented her black and white Andrew Gn gown with matching vermillion lips and tips! To go along with the romantic style, she accessorized with vintage Neil Lane jewelry. Thinking along the same line, Amy Poehler gave a pop of color to her look by matching orange-red nails to her earrings alongside a long black dress.
[Image: Getty Images Entertainment]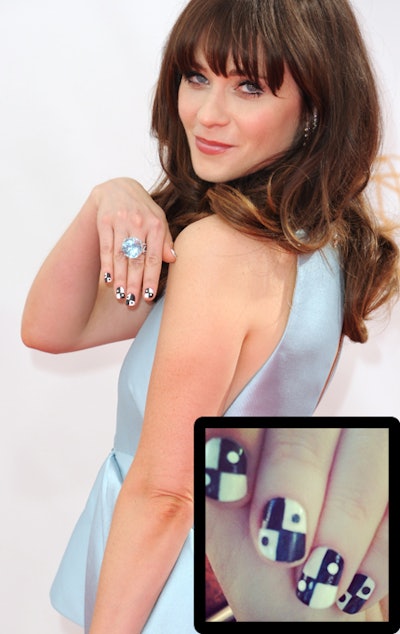 To no one's surprise, Zooey Deschanel arrived at the Emmys with some quirky nail art. After flaunting tuxedo nails, television nails, and film nails at awards shows past, the New Girl lead tried out some black and white geometric tips that were a fun accessory to her dramatic matching baby blue dress, ring, and eyes.
[Image: AFP via Getty; Zooey Deschanel via Instagram @zooeydeschanel]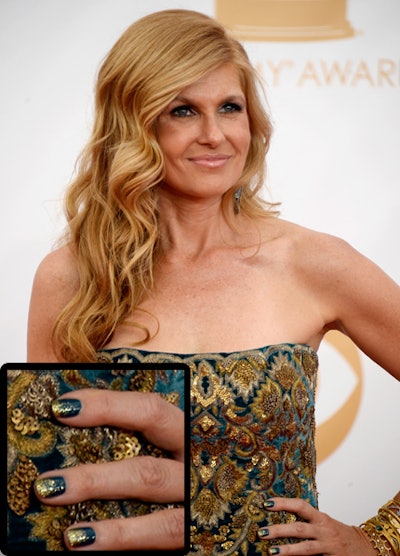 Nashville's Connie Britton wowed everyone in her mermaid-like velvet Naeem Khan gown. Even more impressive than the fabulous gold detail on her dress was her matching manicure. Celebrity manicurist Beth Fricke created a glittering ombre for the actress using Essie Gold As It Gets over Go Overboard.
[Image: Getty Images Entertainment]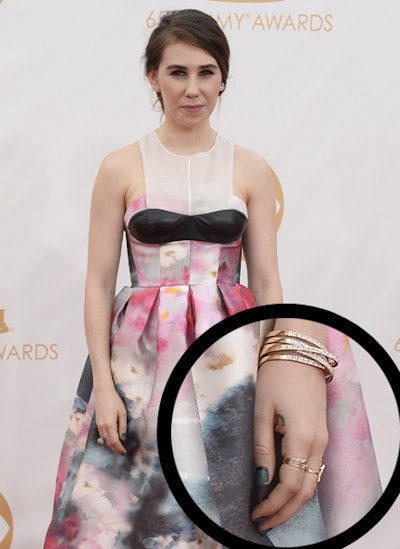 Zosia Mamet made quite the appearance at the mani cam. To go along with her watercolor dress, the Girls star rocked dark teal nails with a dark crescent moon at the cuticle painted by manicurist Nettie Davis. "It's a little wacky nail situation," she said, but we love it!
[Image: Getty Images Entertainment]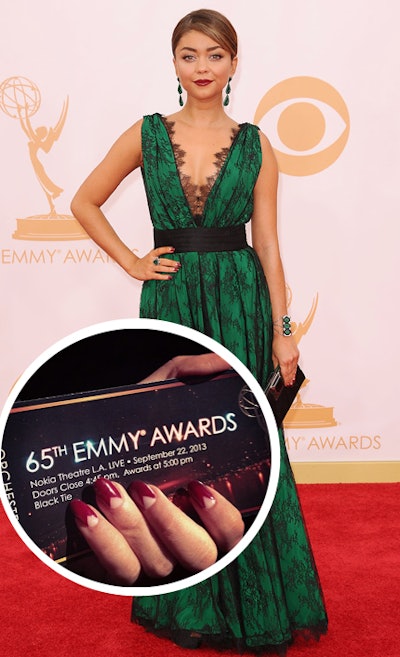 We've had our eyes on Sarah Hyland's nail art in the past, so we were thrilled when she continued her nail art tradition! Before the Emmys began, the Modern Family actress shared a photo of her art deco digits done by Los Angeles based manicurist Christina Aviles. The pointed version of a moon manicure was an elegant contrast to her emerald dress and jewelry.
[Image: FilmMagic via Getty; Sarah Hyland via Instagram @therealsarahhyland]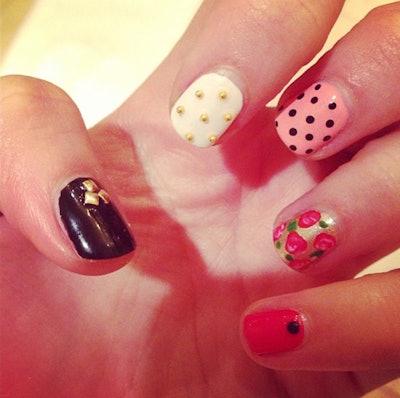 Girls' Lena Dunham made a flowery entrance at the Emmys in a floral print dress with a mismatched manicure that was very Betsey Johnson. Polka dotas, studs, roses, oh my!
[Image: Lena Dunham via Instagram @lenadunham]