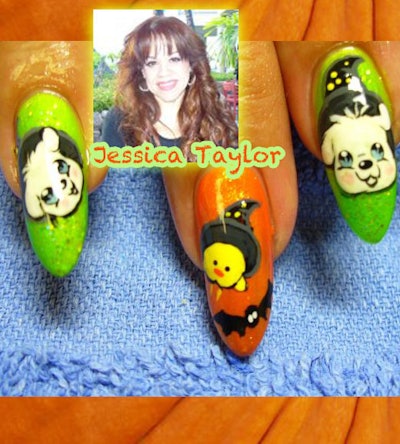 Welcome to NAILPRO's Nailed Down! where we "nail down" nail artists and technicians from our User Galleries and get to know them and their amazing work!
This week we visit Honolulu, Hawaii!
Meet Jessica Taylor:
Where do you work?
I am a senior instructor at Honolulu Nail Academy.
How would you describe yourself?
I have been a nail technician for almost 16 years and an instructor for 9 years. I have a passion for the nail industry, and my clients and students as well. My goal as an instructor is to educate my students through my real life experiences. While connecting those experiences with the theory curriculum, I find that people get excited and remember the subject matter when it's grounded with an emotion. I might go as far as saying a "theatrical scenario."
My emphasis is on following state board rules and regulations. The most important aspect of what we do and what separates us as professionals is to protect the client from any harm through correct sanitation, disinfectants, and the highest standard of customer service.
Over the years, there were times when it was a struggle to balance career and family. However, now that I am a grandmother, my priorities have been more focused on family time. I may have missed some of my daughter's childhood trying to jump start my nail career, but I tried my best. Now that I'm settled into my career and myself, I find my deepest joy is spending time with my family.
Tell us about how you got started in the nail industry.
My journey to becoming a nail technician started at our local community college cosmetology program. In 1989 I became a cosmetologist and did hair for about 8 months. I decided that doing hair was definitely not my calling. However, at that time, doing only nails wasn't even an option. Firstly, I didn't learn enough about nails in cosmetology school to know anything about doing nails. The concentration was on hair. So, I got out of the industry all together and went into the medical field.
I worked in the medical field and also sold insurance for many years. Some of my coworkers at the insurance company were getting their nails done and I thought, "Hey, those nails are different. They look good." I made an appointment and hit it off with my nail tech. She learned of my past experience in cosmetology and asked if I would like to apprentice with her to take over her clients in Hawaii because she was planning to move back to New York. I kind of blew her off and chuckled to myself and thought, "You can't make money doing nails."
I was pretty stable at that point, working for corporate America, benefits package and so on. Why would I leave this to do nails? Well, she planted a seed and it started to grow. I couldn't stop thinking of the possibilities. So I finally, and hesitantly, discussed this opportunity with my husband and his response was to go for it. If it doesn't work out, then you can go back to what you know. That's actually the short version! The rest is history.
What/Who inspires your work?
I am inspired by new advances in our industry. I love Japanese nail art. The number one inspiration is my students. I need to keep up with the trends, advances, techniques and so on to be able to teach my students. I feel as an instructor, it is my responsibility to always update my education in order to stay relevant.
Are there any tool(s) you can't live without?
The tools that I can't live with out are my brushes, all of them. I have a lot.
Do you have a favorite technique or style?
My favorite technique or style would be sculptured acrylic stilettos with inlays and 3D.
What is the funniest/craziest nail story?
The craziest nail story would be, back in 2007. I was teaching our day and night course at Honolulu Nail Academy. My hours were from 8:30AM – 9:30PM for about 2 weeks while we were transitioning to day classes only (until we secured another instructor.) One night, it was about 8:30PM and I was in the middle of instructing my class when I received a phone call from a colleague. She was frantic and loud. She said I needed to go meet this celebrity to do her nails – right now! I couldn't leave, I was in class. She said no one else can do this celebrity's nails. The celebrity's assistant said the woman needs someone who can do "anything" nails. They called several people, and everyone they contacted said they couldn't do anything nails.
Well, my students overheard the conversation, so when I got off the phone with my colleague after declining, they all yelled at the top of their lungs, "Ms. Jes, you have to do it! We won't tell if you leave now!" I told them "NO! I can't leave!" They encouraged me to call the owner of the school and tell him who the celebrity was. So, I did, and he said he would be right over to take over the class so I could do the celebrity's nails. Not knowing what this celebrity wanted me to do, I packed everything I could think of; acrylic, gel, wraps, polish, mani/pedi supplies, everything!
Long story short, this turned out to be a gig that lasted four days in a row. The celebrity's assistant kept asking me back to perform services while the celebrity was in town. Well, that meant four days and probably 16 hours of sleep, because I was still teaching the day and night classes. I would leave after 9:30PM to do services for the celebrity. I would have to wait until she was ready for me, sometimes I was waiting until 2AM before I would start a service. I'd leave there at around 5-6AM and go home, shower, and be at work by 8:30AM. Several occasions during this time, I would be teaching theory and realize I had dozed off for a couple of seconds. I'd catch myself and look up at the students who all had their eyes down as not to embarrass me. They knew I was tired. (The celebrity was Mariah Carey!)
What tip can you offer to other nail technicians?
The tip that I would offer nail technicians is to always update your education. This industry changes so rapidly. It's your responsibility to your clients to keep up with those changes and offer new services. Your clients read fashion magazines and keep up with what the media is putting out there. You don't want to get stuck in a time warp and not know how to do what your clients request. After all, you are working for them. I feel a nail tech must be able to offer all the services that are covered under their licensure. We should never say, "Oh, I can't do that."
You can find Jessica Taylor on the web:
In the NAILPRO User Gallery: My Nailz
Facebook: Jes Taylor
Instagram: @jtnailz
Google +: Jes Taylor
Honolulu Nail Academy Website: www.honolulunailacademy.com
Click here for more Nailed Down! interviews »
Would you like to be featured in NAILED DOWN? Post images of your nail art to our User Gallery. We'll be highlighting outstanding artists based on those submissions! (minimum six pictures to qualify for consideration) NAILPRO reserves the right to edit submissions for length, grammar and clarity.