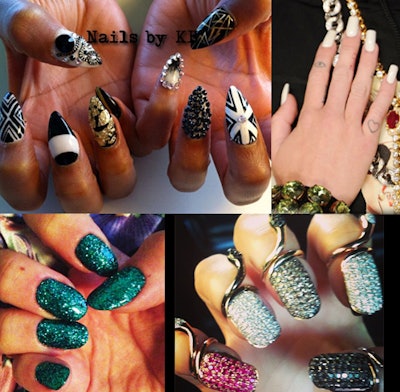 The MTV Video Music Awards saw an array of memorable fashion choices, from Lady Gaga's seashell bikini and thong (and nothing else) to Katy Perry's turtleneck leopard print dress. While many stars rocked the classic black musician's mani, the event's more noteworthy nails featured luxurious metallics, autumnal jewel tones, and rich shimmers.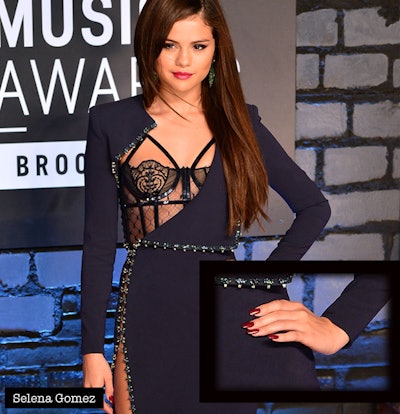 Winner of the Best Pop Video, Selena Gomez, had all eyes on her on the red carpet. The young singer was decked out completely in deep jewel tones for fall, from her high-slitted navy Atelier Versace gown, to her emerald earrings, and finally — her ruby red tips.
[Image: WireImage/Getty]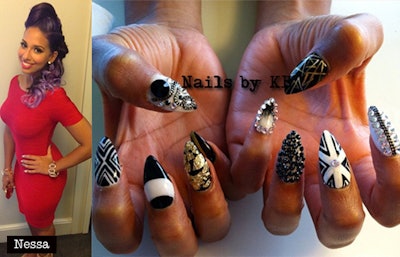 Nessa of MTV's Girl Code had her nails all prepped up the week before the event. Bay area nail artist, Instagram's @kbfancy_wancy, designed an elaborate black and white set for the radio-turned-TV personality. The detailed but neutral nails were the perfect match to her hot pink dress and lavender tresses.
[Nessa via Instagram @nessnitty; IG @kbfancy_wancy]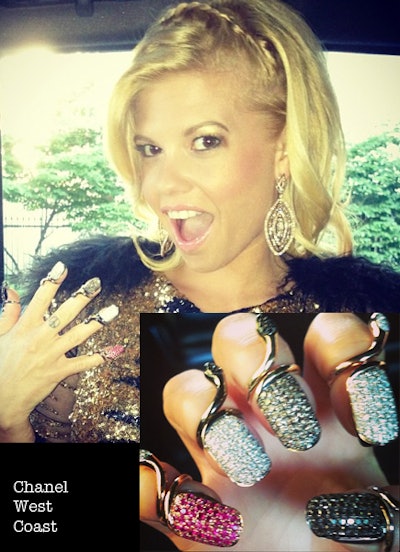 Chelsea Chanel Dudley (known on camera as Chanel West Coast), rapper and cast member of MTV's Ridiculousness, won the award for the most blinged-out nails at the VMAs. On her right hand only, she wore five different nail rings — diamond-encrusted jewelry that covers the entire nail plate. Her left hand, sans rings, showed off her classic black polish.
[Images: Instagram via Chanel West Coast @chanelwestcoast]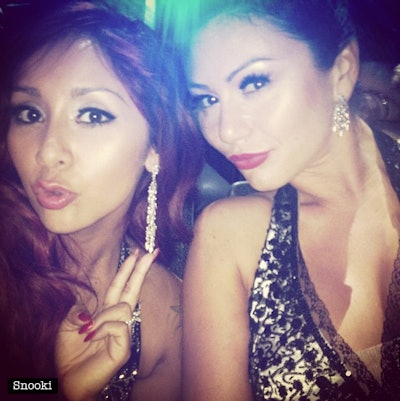 Snooki hasn't let motherhood keep her away from the music event of the year. The Jersey Shore star matched red mermaid waves with long crimson-painted digits. Mixing old Hollywood with Jersey style, Nicole also wore glitzy chandelier earrings and a low cut halter-neck black gown.
[Instagram: Snooki via Instagram @snookinic]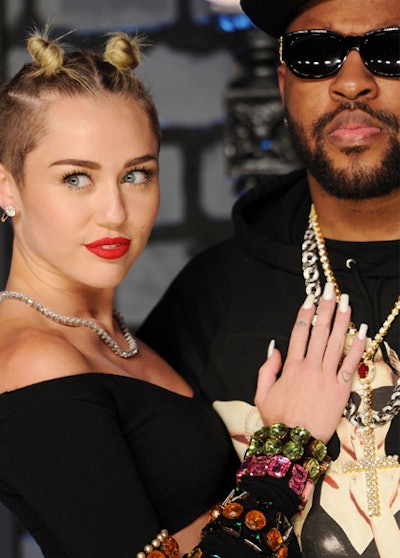 Miley flaunted her white fingertips across the chest of Mike WiLL Made It at the MTV Video Music Awards. Despite being completely adorned with giant rainbow rhinestones, the "We Can't Stop" singer had rather simple square pearl-colored acrylics.
[WireImage/Getty]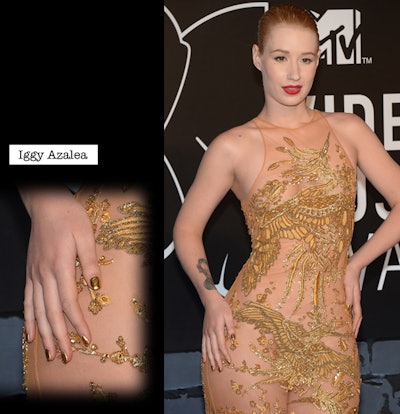 Iggy Azalea stepped out with a completely golden manicure that matched the intricate embroidery of her sheer Emilio Pucci gown. The Australian rapper's strawberry blonde slicked-back ponytail and brows were practically the same hue; it seemed her and Snooki had the same idea when it came to matching manes to polish.
[Image: Getty Images Entertainment]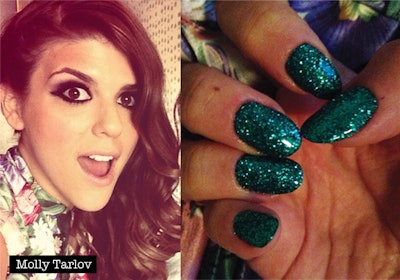 Molly Tarlov of MTV's Awkward arrived at the Awards with shimmery nails in the Pantone Color of the Year that picked up the greens in her floral dress. Now that Fall 2013 has arrived, we should start seeing more true interpretations of the dark emerald nail.
[Images: Molly Tarlov via Instagram @mollytarlov]