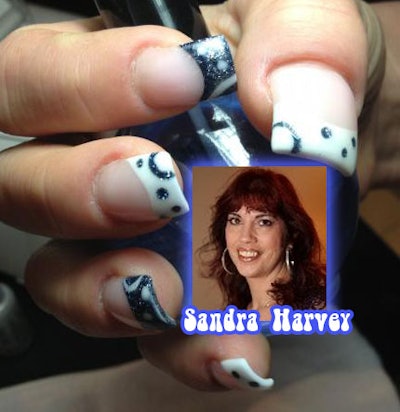 Welcome to NAILPRO's Nailed Down! where we "nail down" nail artists and technicians from our User Galleries and get to know them and their amazing work!
This week we visit Lumby, British Columbia – Canada!
Meet Sandra Harvey:
Where do you work?
Impressions Salon
How would you describe yourself?
I would best describe myself as easy going, a little bit of a perfectionist, and creative. I love it when people leave my desk with a smile on their face saying I LOVE them.
Tell us about how you got started in the nail industry.
I have had my own nails done since I was 18 years-old and just started asking my nail tech what all was involved in doing nails. So she had me fill her nails. I did it with her instruction and she just looked at me and said, "When can you start the course because I have a job for you in my salon!" The rest is history.
What/Who inspires your work?
Everything inspires me: colors, shapes, everything. My clients inspire me. My kids inspire me.
Are there any tool(s) you can't live without?
I think I would have to say my striping brush and my dotting tool.
Do you have a favorite technique or style?
Wow, I don't really have a favorite so to speak. I love the natural look with a little gel polish and some stamps. I also love doing French. I enjoy working with both gel and acrylic.
What is your craziest/funniest nail story?
I would have to say the craziest thing I have done was when we were camping with our family at a fishing derby. I did a full set of nails out in the bush. (I don't leave home without my nail supplies!)
What tip can you offer to other nail technicians?
Never stop learning and watching other people work. I think it doesn't matter how long you have been in the industry, there will always be something to learn.
Do you have anything else you'd like to add?
Be creative don't be afraid to try something. Get a training hand and PLAY, PLAY, PLAY!
You can find Sandra Harvey on the web:
In the NAILPRO User Gallery: nails nails nails
Facebook: Nails by Sandra
Click here for more Nailed Down! interviews »
Would you like to be featured in NAILED DOWN? Post images of your nail art to our User Gallery. We'll be highlighting outstanding artists based on those submissions! (minimum six pictures to qualify for consideration) NAILPRO reserves the right to edit submissions for length, grammar and clarity.