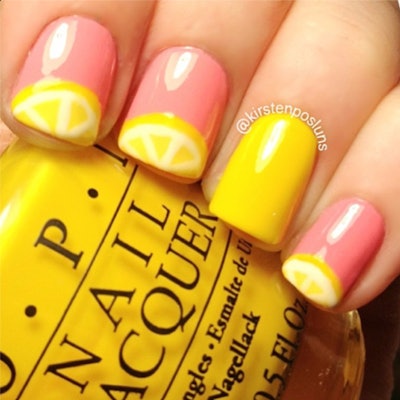 Short nails can be beautiful! Though the canvas might be a little smaller, clipped back nails can still sport some impressive nail art. If you're "short" on ideas for nail art, click through to see what styles we have our eye on!
Orange and Pink
Orange in any shade is a fun trend for fall. Try ombre, like this first set of nails, an autumn pattern such as plaid, or the new marbled fad.
A polish classic, pretty pinks are always in style. Rather than solid colored nails, spice up a client's routine mani by showing her the many options for fun 3D nail art, like bows and rhinestones.
[Images: Instagram @allnailseverything, @weini_426, @nailsbyjosse, @laydeejane_ski, @naq57]
Fun and Feminine
Short nails hold an inherent whimsy to them that long nails just can't fulfill. Thus, fun prints and shapes seem to go hand in hand with tiny tips. Florals, characters, and fruity-tootiness should all be used with no holding back!
[Images: Instagram @kirstenposluns, @Lilyjadesimon, @liinslus, @Sambry_N, @nailsbycarebear]
Striped
Lines seem like a simple design, but they can be mixed up in all sorts of ways for different clients. Some unique takes on the concept include chevron stripes, lots of tiny "tribal"-like lines, ocean inspired waves, and a banded accent nail.
[Images: Instagram @nailedbysam, @roxxxy, @jole_e, @vixen_jhoyan]
Polka Dots
While probably the simplest piece of nail art, polka dots can be used in a variety of ways. Mix polka dots up with ombre or a French to personalize a manicure. 3D spots, as in dots shadowed by either a white or black moon, like in the nude set below, diverge from typical tips.
[Images: Instagram @rachelshairplusnails, @wrkreads, @nailsbymarri, @piola100, @momomadeline]
Glitter
Glitter is a must. Always. For everything. Teal and copper colored glitter is a fantastic color combo. Even better than glitter on its own is glitter matched with creative nail art. Incorporate a touch of sparkle into your animal prints, chevron stripes, and galaxy nails for a sparkling mani your clients will adore.
[Images: Instagram @OnceBittenBlog, @britnie211, @betchynails, @nailart_ari]